Awards and recognitions 2015-2019
National Scholastic Press Association
Cece Giarman, Finalist  "Page 1"  (Winners announced late November)
Josephine Rozzelle, Finalist "California on fire: climate change effects worsen" (Winners announced late November)
Journalism Education Association of Northern California
2017 Annual Contest
NEWSPUB editorial cartoon
Lizzie Bruce     Honorable Mention "I did not …"
NEWSPUB nameplate design
Editorial Board  2nd Place
NEWSPUB news photo
Lisabelle Panossian 1st Place (SFO Protest)
NEWSPUB review writing
Grace Ainslie Honorable Mention
ONLINE breaking news story
Editorial Board 3rd Place (Day-after election)
ONLINE breaking news stream
Lisabelle Panossian & Claire Kosewic  2nd Place (walk out)
California Press Women High School Communications Contest
May 18, 2017
Column Writing
Julia-Rose Kibben      Second Place     Social media reinforces gender stereotypes
Lisabelle Panossian     Second Place     Hide and seek for freedom, Refugee children live in danger
Julia-Rose Kibben     Third Place      Moving Forward
Lisabelle Panossian     Third Place     Targeting ethnicity, Cultural stereotypes are more prevalent than ever
Editorials
Claire Kosewic     Second Place     Election results not an excuse for hate
Feature Story
Grace Ainslie     Second Place     A pain in the neck – and back
Asha Khanna     Second Place     Dressing for success
Julia-Rose Kibben     Second Place     Texting lingo goes mainstream
Julia-Rose Kibben     Second Place     Model status
Claire Kosewic     Second Place     A noteworthy discussion
India Theriot     Second Place     Resetting the system
India Theriot     Second Place     Taking control, of the wheel
India Theriot     Second Place     Endless aspects, one choice.
India Theriot     Second Place     Women take the political stage
Asha Khanna     Third Place     Friday night choices have Saturday morning consequences
Asha Khanna     Third Place     Injuries that knee-d to be addressed
Grace Ainslie     Third Place     Testing policy gets ahead
Grace Ainslie     Third Place      Exhibit reflects on the past
India Theriot     Third Place     Virtually hilarious
India Theriot     Third Place     Spirit, not spirits
Julia-Rose Kibben     Third Place     Popular fruit may not be so berry good
Julia-Rose Kibben     Third Place     Female costumes expose double standard
Julia-Rose Kibben     Third Place     Promposals go beyond tradition
Graphics/Photo Illustration   
2017 Annual San Francisco Peninsula Press Club
Student Journalism Awards
Editorial

Web site content


JEA/NSPA 2017 Spring Convention in Seattle
(We didn't attend as a staff, but we were awarded)
First Amendment Press Freedom Award (Awarded to Convent HS for all of its publications)
Journalism Education Association of Northern California
2016 Annual Contest
NEWSPUB profile feature story
Claire Kosewic     First Place     Alumna makes waves at US Naval Academy
NEWSPUB review writing
Julia-Rose Kibben     Third Place     Life before death
ONLINE breaking news story
Claire Kosewic    Honorable mention    CSH, SHHS have program day to encourage gender equality
2016 Annual San Francisco Peninsula Press Club
Student Journalism Awards
Editorial
Staff     Second Place     Racial insensitivity triggers community discussion
Web site content
Staff     Third Place     The Broadview
General Excellence/Newspaper
Third Place     The Broadview
California Press Women
April 25, 2016
Column Writing 
Liana Lum     First Place    Teens need to take notice, Improper use of mobility aids degrading, offensive
Alyssa Alvarez     Third Place    View from the stands/Ability over image
Editorials
Kristina Cary     Third Place     Bingeing can lead to unhealthy lifestyle
Kristina Cary     Honorable Mention    Feminism is not just a case for women, men
Feature Story
Kendra Harvey     Second Place    Self-exams save lives through early detection of breast cancer
Julia-Rose Kibben     Second Place     Makeup labels only go skin-deep
Claire Kosewic     Second Place     Alumna makes waves at USNA
Liana Lum     Second Place     Misunderstandings surrounding feminism lead to new terms
Liana Lum     Second Place     Ribbons mislead consumers
Liana Lum     Second Place     Shaming is limiting. Period.
Liana Lum      Second Place Alumna makes movie on Syrian border focusing on impact of happiness
Neely Metz     Second Place    Workers pay the price for fast fashion
Lisabelle Panossian     Second Place     Protecting privacy online
India Thieriot     Second Place     Dinner is a meal best served with family
Neely Metz     Third Place     Toxic friends diminsh relationships
Neely Metz     Third Place     Kill the conversation
Neely Metz     Third Place     Multitasking both helpful, distracting
Lisabelle Panossian     Third Place     Being the odd girl out
Lisabelle Panossian     Third Place     Guardian of the front gates
Lisabelle Panossian     Third Place     Female comedians get serious about gender equality
India Thieriot     Third Place     Youth Should be Seen and Heard
Julia-Rose Kibben     Honorable Mention     Puppies 'ruff' and tumble on football field
Graphics/Photo Illustration   
Kendra Harvey     Honorable Mention     Self-exams save lives through early detection of breast cancer
Kendra Harvey     Third Place     Getting a'head' of concussions
Asha Khanna     Third Place     Malware infects digital hardware
News Writing         
Alyssa Alvarez     Third Place     Service project bypasses borders
Asha, Khanna     Second Place     Malware infects digital hardware
Julia-Rose Kibben     Honorable Mention     Two teen girls dominate the virtual sports world
Opinion Writing
Lisabelle Panossian     Second Place     West Mourned, East Ignored
Reviews
Julia-Rose Kibben     Second Place     Exhibit explores Amy Winehouse's rise to fame
Single-Page Layout
Kendra Harvey     Honorable Mention     Be the 'breast' you can be
Sports Story
Asha, Khanna     Third Place     Athletes prioritize school for college
JEA/NSPA 2016 Spring Convention in Los Angeles
National Scholastic Press Association Hall of Fame induction for over a decade of sustained excellence
2016 First Amendment Press Freedom Award (Awarded to Convent HS for all of its publications)
2016 Online Pacemaker Finalist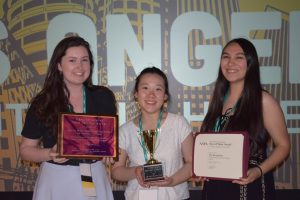 2016 Best of Show First Place Newspaper Tabloid 16 or Fewer for the Feb. 4, 2016 edition
Judge's Comments: The top choice had strong writing, contemporary stories and a clean design. Overall, there was a strong use of graphics tied to the verbal content. Students approached controversial topics and there was a strong focus on the lives of the students.
2016 Best of Show Second Place Website Small School (<1500 students)
Judge's Comments: The second place winner Broadview had good story variety with strong headlines. They were also had a very organized system of topics on the site.