Athletes prioritize school for college
Students choose to focus on their education despite having played a sport throughout high school.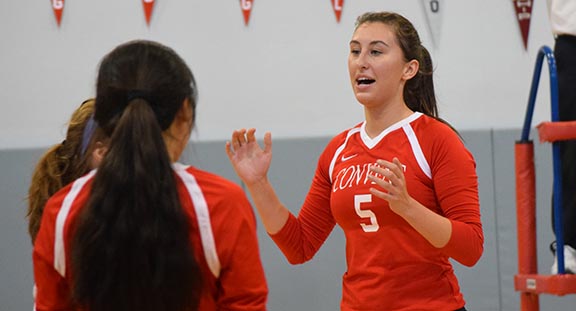 Although senior Maris Winslow has played volleyball since third grade, like many other high school athletes, she will hang up her high school sports jersey when heading to college.
"I was fortunate enough to have coaches from colleges, like Chapman, reach out to me because that gave me the chance to play volleyball after high school," Winslow said, "but, I'm sort of going on the path where I want more of a straightforward, regular college experience."
College athletes, like Alexandra Wood ('15), who was recruited to join the volleyball team at Tufts University, attend four-hour practices six days a week in addition to playing two to four games.
"I wanted to play volleyball in college because I wanted to keep volleyball as part of my identity and have it carry through," Wood said. "I pretty much go straight from my classes to practice, and so far it's been challenging."
Losing four hours almost every day prevents athletes from having spare time for other activities, according to Wood.
"I want to rush — I want to have a balanced social life and I want to just experience everything," Winslow said. "I felt like if I was committed to playing a sport, then I wouldn't be able to experience all of that."
Senior Isabella Coolins picked up golf her freshman year as a past time with college in mind, but her plans have changed.
"I just wanted to try something new, and I was really interested in golf because I heard there were a lot of good scholarships for college," Coolins said, "but, it's really competitive and really hard to get into, and it's a lot of pressure."
Some students may opt out of sports because they want to focus on their careers after college, according to Associate Athletic Director Cody Lee Fusco.
"There's burn out, really just feeling like they are not doing it for themselves anymore but doing it for other people," Fusco said. "Sports are something you should want to do for yourself and get better at for your own personal growth. Sometimes you reach the point where you think it's the best you can do."
Both Winslow and Coolins say they may consider playing intramurals, teams that compete within their college. 
"If you love the sport enough, and you really feel like it's part of who you are, then you should absolutely play in college," Wood said. "Intramurals are a great option for people who still want to play the sport but want less of a commitment."