Puppies 'ruff' and tumble on the football field
Fans of the Panthers and Broncos put aside their rivalries this weekend to cheer on a common family favorite — puppies.
Throngs of people gathered outside of Gott's Roadside at the Ferry Building for a live viewing of Animal Planet TV's "Puppy Bowl Cafe," where puppies mimicked a football game with fluffy chew toys.
"The puppies are having a blast," Jessica Perrin, Digital Marketing Manager at the East Bay Society for the Prevention of Cruelty to Animals (SPCA), said. "They're a little tired. It's day three, so they're slowing down just a tad, but they're loving it."
Two litters were featured, one pitbull terrier mix and the other a lab terrier mix, referred to as Team Ruff and Team Fluff.
The four pitbull mix puppies, all named after Clue characters like Colonel Mustard, Professor Plum, Mrs. Peacock and Mrs. White, took to the field as the competition commenced. Puppies were scored on cuteness and toy possession and docked points for peeing or pooping on the field.
"It's like Christmas morning," the referee announced once a green chew toy was deemed a group favorite. "They only want the one the other is playing with."
Canine-themed songs played in the background, like "Dog Days" by Florence and the Machine, as the Puppy Bowl occurred in increments of 45 minutes, with 15 minute breaks for the puppies to rest and the field to be sanitized.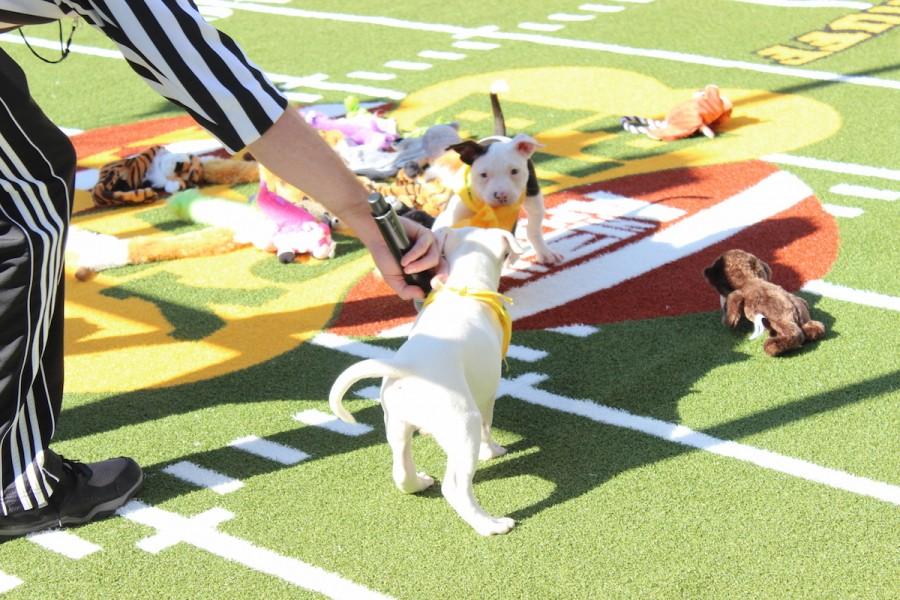 "We try to give the dogs a bit of a rest period," Matt Windsor, Senior Publicist of Animal Planet, said. "It can be really tiring for them to be out here all day."
The Puppy Bowl will help the puppies with their socialization as they grow into adult dogs, according to Perrin.
The puppies, all eight weeks old, have yet to be spayed or neutered, but those services will be handled by the East Bay SPCA and funded by Animal Planet.
"People don't always realize that there may be a $100 or $150 adoption cost, but it takes a shelter around $700 to $800 on average for these shelters to get these dogs ready to go out the door," Windsor said. "Organizations like Animal Planet donating helps them to facilitate some of those costs."
The event is important publicity for the East Bay SPCA, according to Perrin.
"We don't just do puppy adoptions," Perrin said. "We do humane education throughout the community, we have low cost veterinary service clinic, and we offer different outreach clinics in the Oakland neighborhoods. We really are a community organization."
The Puppy Bowl Cafe brings awareness to different types of animals living in local shelters, according to Perrin.
"A lot of people have a stigma about pitbulls, and so we came to bring them out and show that they're just as friendly as your regular neighborhood dog," Perrin said. "But, also to bring awareness to how many dogs are in our shelter and need a home."
The SPCA foresees all the dogs at the shelter to be adopted today, according to Perrin.
"If people come in, even if the animal they had their eye on yesterday was already adopted, maybe there's another one there that catches their eye and they just fall in love with," Perrin said.
Visitors of all ages crowded around the faux football field to see the puppies fighting over fluffy toys and playfully biting each other.
"We're here because Ruby wanted to come and support the puppies getting adopted and see them in the Puppy Bowl," Puppy Bowl attendee Erica Robinson said of her rescue dog Ruby who was placed in her purse.
Ruby, a terrier dachshund mix who will turn two in April, is an avid fan of Animal Planet shows like "Too Cute," according to Robinson.
"This is like the Super Bowl for her, and she wishes she could jump in and play," Robinson said. "She hopes that all the dogs get adopted, and she's thrilled she got to meet one of the players up close."