Makeup labels only go skin-deep
Julia-Rose Kibben
Senior Reporter
Many young women and girls apply makeup as a part of their daily ritual, however few know that there are no labeling requirements mandated by regul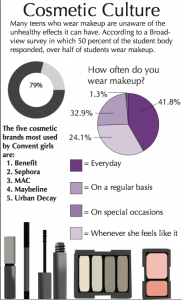 atory agencies or are aware of the potential side effects of the chemicals they are exposed to everyday.
"For any girl who is conscious about the food she eats, what you put on your skin is just as important, if not more important," Jessica Assaf, Co-Founder of Beauty Lies Truth, a company that curates natural beauty products, said. "The skin is the body's biggest organ, and 60 percent of what you put on your skin is absorbed directly into your bloodstream."
Nearly five pounds of makeup per year is absorbed into the bodies of girls who wear makeup on a regular basis, according to the Organic Consumers Association.
"I believe fundamentally that it is wrong that the government has nearly zero regulations about the ingredients used in our personal care products," Jennifer Hatfield Executive Director of BeautyCounter, said.
The European Union has banned 1373 chemicals off of the market while the U.S. Food & Drug Administration has banned eight and restricted three, according to Assaf.
"Unlike food and drugs, the FDA does not require companies to test their products for safety before they hit the shelves," Assaf said. "It's scary because there are a lot of ingredients that are in products that shouldn't be just because they are legal, cheap and readily available."
Personal care products can contain heavy metals such as cadmium, human carcinogens and endocrine disruptors that can pose the greatest risk during and after pregnancy in terms of child development, according to the National Institutes of Health.
"There are so many chemicals, the worst part is that only 11 percent of 10,500  ingredients in our products have even been evaluated for safety," Assaf said. "Beyond the ingredients we know are not safe, for most of these ingredients we just do not know yet if they are safe."
A lack of labeling requirements compels the industry to self-evaluate through independent companies like the Cosmetics Industry Review. Run by the Personal Care Products Council, the voting panel consists of eight men and one woman.
"I don't want to choose wearing makeup over my health," Assaf said. "We can have both, because there are some amazing companies making safe and effective products, so really this is just about girls empowering girls and putting the power back into the hands of women."
In a study executed last year by the cosmetic company Escentuals, the average age in which girls began wearing makeup was 11, four years earlier than in previous surveys.
"Like most girls, I have no idea what's in my makeup at all," sophomore Sabrina Chaffee said. "I don't read the labels because I'm not eating it, so I don't think it really effects me that much."
Cosmetic labels often identify if the product is cruelty-free with symbols like the rabbit from the Leaping Bunny Program, a company that certifies and recognizes cruelty-free cosmetics or by specifying on the label if it has been tested on animals.
"Cruelty-free" has become ambiguous since no government agency has an explicit definition for the term leaving it up to each company to determine the meaning of the label, according to the Massachusetts Society for the Prevention of Cruelty to Animals.
Safe cosmetics are products that are not in any way potentially harmful to consumers and have not been at any point during the formulation process.
"The reality is that every company is essentially testing their products on humans," Assaf said. "So when people say they want cruelty-free products, I always ask them if that also means safe products, because no one should be the human guinea pig either."
High-end cosmetic stores like Sephora only sell two brands approved by the Leaping Bunny Program.
"We're trying to create a movement because that's how things get changed in this country, is through effort," Hatfield said.
By boycotting brands or writing to cosmetic companies, consumers can play their part in influencing change, according to Assaf.
"We're all in the dark when it comes this, and this is a topic that needs attention brought to it because the statistics are honestly disgusting," Chaffee said. "Truth be told, it's not like all girls are just going to stop wearing makeup, so there's a change that needs to happen and girls need to know the facts so they can change their mindset."