Two teen girls dominate the virtual sports world while 3,203 miles apart
Scoring digital touchdowns.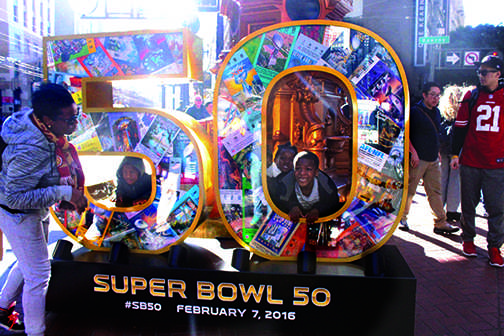 With the Superbowl taking over the Bay Area from the City to Santa Clara, junior Grace Apple plans to observe from the ESPN Fantasy Football app, where she has lead the whole season.
Apple met senior Shoshana Hoffman of Virginia during her time abroad at Oxbridge in Salamanca, Spain and during downtime, the two bonded over a love of football, and created an ESPN Fantasy Football team which eventually finished the season winning the fantasy league.
"I've always been a fan of football, but I learned a lot more about different players and teams through fantasy football," Apple said.
ESPN Fantasy Football allows gamers to create football teams made up of drafted National Football League (NFL) players, and does not involve gambling. Gamers base decisions off of the success of teams and individual athletes as well as ESPN projections published on its website.
"When we made our team, some guys had told us 'Your team sucks, you got all the wrong players,'" Apple said. "I don't know how that's possible because we got some top players, but I think they said that because they were jealous that girls were playing in this dominantly male game."
Apple says she and Hoffman check the Fantasy Football app as frequently as their female peers check Snapchat and Instagram.
At the beginning of the fantasy season, as the only female-coached team in their league, they drafted Peyton Manning, football quarterback for the Denver Broncos who is now set to compete in the Super Bowl 50 on Sunday at 49ers Stadium in Santa Clara.
"We won't be affected by the quantitative score of the Super Bowl because we've already won our league, but if the Broncos win, Peyton Manning, our quarterback will be accredited with that Super Bowl trophy and the next Fantasy season he'll be higher ranked," Apple said. "This will be important for us next season because having him will increase our team's credibility."
Manning holds many fantasy records as one of the top four best quarterbacks. He scores an average of 11.7 touchdowns per season since being drafted to the Broncos, according to ESPN.
Fantasy Football gamers "coach" their teams, choosing which players to bench and which to play on a weekly basis.
"During the draft you really have to know the players because you can't just base it off of a player's brand name," Apple said. "While the season's going on, you have to keep up, you can't just let your players play. We put in Peyton, he got hurt, and we had to know to replace him with [Tony] Romo."
Later in the season, Romo got injured and they switched him back out for Manning.
Before Hoffman met Apple, she took a Sports Marketing class at her high school in Virginia where she was the only girl out of 25 students.
"After taking sports marketing, I learned that your score means everything," Hoffman said. "It's not one individual player that matters on your team that's good, overall you have to have a great team to get those points.
Her class experimented with playing Fantasy Football and projections on March Madness.
"I was in the top 10 or something, and everyone was just like 'Oh wow, you actually kind of know sports,'" Hoffman said. "To them, I was 'just a girl' and they didn't think I got it."
Apple and Hoffman's team, known as "shanapple apple" placed first in their league after winning 10 of 13 games. Shanapple apple also "took home" virtual trophies for the Biggest Win of the fantasy season and the Division Championship.
"We are really looking forward to the next Fantasy Football season," Apple said. "Hopefully the Broncos win so we can continue to defy gender stereotypes in the sports world."