Cafeteria starts providing all day service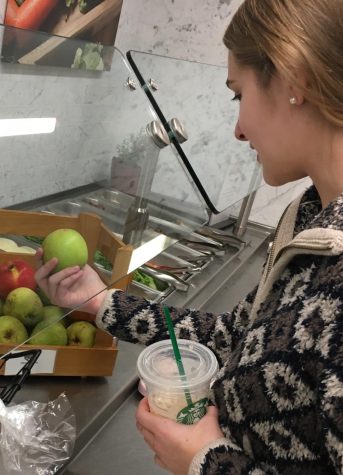 WEB EXCLUSIVE   SAGE Dining Services is now allowing students to purchase snacks, fruit and other grab-and-go items at any time of the day on the Broadway Campus.
"I had wished that the cafeteria would provide food in between classes because I know a lot of students like me get hungry in between classes," sophomore Ella Beard said. "We need to fuel our bodies so we can achieve the best that we can in class, and it is frustrating when we cannot get that."
"My day is going to be much easier now that I can come down whenever I want and have food at my disposal."
A meeting was held yesterday where it was clarified that high school students would be able to buy snacks during all hours of the school day, according to chef Walter Ellerbe, who travels to SAGE Dining Services locations to assist them.
Ellerbe says that many other topics were also discussed during the meeting such as food quality and having more variety and options for food.
"One of the things I want to do while I am here is to find out what [students] like and do not like," Ellerbe said. "It is hard when working with such a large group of people, but we are shooting for pleasing as many people as possible."
Junior Maggie Walter says she is relieved that her hunger will no longer be as big of a distraction during class.
"I am so excited," Walter said. "My day is going to be much easier now that I can come down whenever I want and have food at my disposal."