News staff takes pledges for public television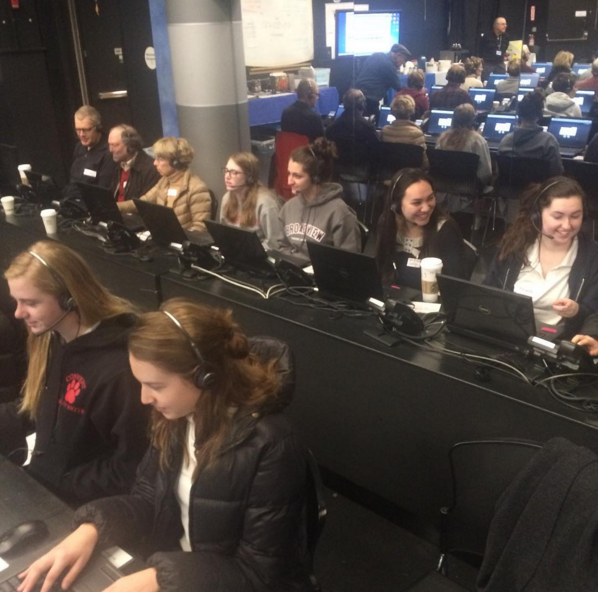 Hang on for a minute...we're trying to find some more stories you might like.
Tired-eyed and trying to stay awake with coffees in hand, Broadview senior staff arrived at KQED Television and Radio Station at 6:30 a.m. this morning.
"I don't normally wake up until seven, and I had to wake up at 5:30 a.m.," assistant copy editor India Thieriot, said. "Once I had my coffee, I was ready to go."
Nine journalism editors of The Broadview staff and their adviser Tracy Sena filled two rows of tables fitted with phones and laptops awaiting callers to process their pledges.
"I am a huge fan of the radio show 'This American Life,' so I felt like I was helping something that I wanted to see succeed," Thieriot said.
KQED Volunteer Coordinator Julie Becker expressed concern about high school students who come without the KQED exposure necessary to feel the reward of the community service.
"When you listen, you know what they're talking about with the pledges," Becker said. "Otherwise you're just coming in and sitting down in front of the computers and talking to people and it can get to be really overwhelming."
The students received calls and accept them on phones, greeting the callers with prompted salutations.
KQED listeners were eligible to receive gifts if they pledged to be sustaining members or made one-time donations. Donors could pledge $180 to receive gifts such as a Roku 2 Device with a year of unlimited Acorn streaming or and $360 for an emergency family bucket complete with an Eton radio. On that morning, bonus gifts which came with pledges of $180 or more included pairs of tickets for the Berkeley Art Museum and year-long digital subscriptions to the "New York Times."
The volunteer team answered phone calls and recorded many pledges —  amounting to $39,000 in donations, and making it the best day of the week so far, according to volunteer supervisor Markus Schopomeyer.
Thieriot received a call from a listener pledging to donate $1,000.
"Every amount of money is valuable," Thieriot said, "but I was surprised when I answered the phone and they said a thousand dollars. She didn't even want a thank you gift to go with it, she just wanted to give and receive nothing in return, which I felt was really beautiful."
After the phone lines closed around 8:45 a.m., the students were offered a quick tour of other KQED studios including Studio B which hosts KQED television shows "Check, Please!" and "Newsroom." 
"I feel like it's not super well known that KQED is a nonprofit that's always in need of volunteers," Thieriot said. "It was different from your average volunteer work and it was a great way to give back to a community that educates us."

(Visited 198 times, 1 visits today)
Hang on for a minute...we're trying to find some more stories you might like.