Transportation cautions heighten with increase in precipitation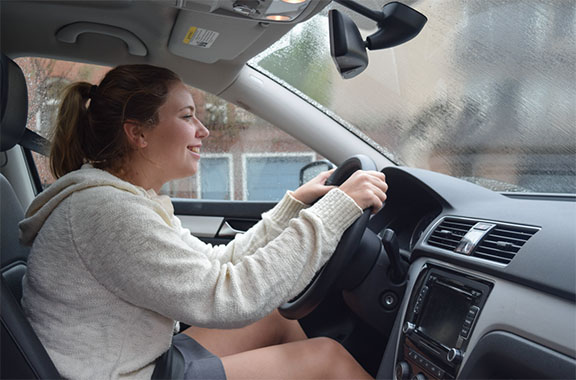 Senior Abby Dolan got into her car wearing slippers as it started to rain one day last year, but her shoe choice proved unfortunate when she tried to back her car into a parking spot.
"I just had to put my foot on the brake to stop my car, and my foot slipped off of the brake and onto the gas pedal because my slippers were wet," Dolan said. "I just floored my car into the car behind me, and it totaled the other car."
This winter's higher than normal rainfall, welcome after four years of drought, is attributed to El Niño, a climate cycle in the Pacific Ocean. The current El Niño is the strongest in 18 years and is not expected to end until late spring, according to the National Oceanic and Atmospheric Administration.
"It was a week after I got my license, so I had only been driving for a little bit," Dolan said. "I had never driven in the rain be- fore I got my license, so I kind of taught myself. That's one thing I was really scared about driving."
Junior Claudia Bouchard drives to school every day to practice for her license, but like Dolan, she never received any training specific to driving in the rain.
"Driving in the rain hasn't been that much different, I just feel like I'm more alert," Bouchard said. "One of the lessons I had with my instructor was in the rain, but that was the only practice I had."
Young drivers are advised to keep their phone turned off, minimize distractions such as playing music loudly and obey the speed limit to drive safely, according to the California Department of Motor Vehicles.
California law requires drivers to keep their headlights on when the windshield wipers are in use in addition to when it is dark or when visibility is less than 1,000 feet.
"I've also been in the car with friends, and we've slightly hydroplaned," Dolan said. "You just have to slow down." Hydroplaning, which occurs when the car tires skid on a wet surface, is caused by water that mixes with oil residue on the street and creates a slippery surface. Drivers are advised to slow down and avoid hard braking, according to the American Automobile Association.
Drivers are not the only ones who can get injured from wet pavement.
Math teacher Chris Person -Rennell, who bikes to school everyday with his safety gear — a bright yellow vest, a helmet and lights on his bike — says he must take extra precautions in the rain.
"You do have to go slower because the brakes don't work as well," Person-Rennell said. "If the water directly contacts the brake surfaces on a bike, your stopping distance increases. It's also really easy to skid out be- cause the streets have oils built into them, which just happens in a city. When there's water on the streets, it's really slick on the bike, so I do have to bike slower."
Wet pavement causes approximately 1.2 million crashes each year, according to AAA.
"I'm definitely more cautious," Dolan said. "The speed limit doesn't apply in all weather conditions. You definitely have to be more careful in the rain."