Sleepy students
Early morning wake-ups can impact learning.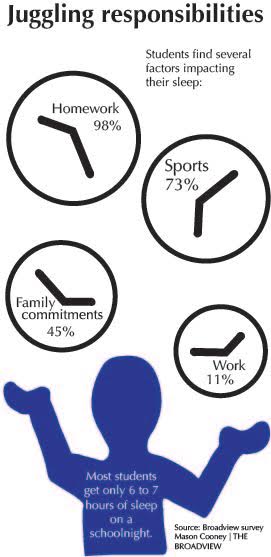 As students shuffle into their first period classes, suppressing yawns and fighting the urge to go back to sleep, many find the early start time of school makes it difficult to be well rested.
"I do not get enough sleep," senior Lauren Wasserman, who says she sleeps about six hours each night, said. "It's just hard to get that little sleep and be up and at school by 8 a.m. every morning."
Most Convent girls sleep for six to seven hours on school nights, according to a Broadview survey — falling short of the eight to 10 hours recommended by the National Sleep Foundation. Homework and sports are the top two factors impacting students' bedtimes, which for most is between 10:30 p.m. and 12:30 a.m.
"We have too much work to do and not enough time to do it," Wasserman said. "The load is heavy especially for seniors applying to colleges. It just is a little intense with all that going on to not be getting the proper amount of sleep."
Sleep deprived individuals have more difficulty receiving information and have a lack of focus, attention and vigilance, according to research conducted at Harvard Medical School. Less sleep also hinders the ability to recall previously learned information.
"It's really hard for me to focus early in the morning when I am exhausted," Wasserman said. "I can always remember things better when I've had a full eight hours of sleep."
Sleep cycles shift in adolescence, making it difficult for some students to fall asleep before 11 p.m., according to the National Sleep Foundation.
Hundreds of schools across the United States have implemented later start times, such as Menlo-Atherton High School in Atherton that now starts at 8:45 a.m. for most students.
Junior Poppy Cohen, who transferred to CSH from Henrietta Barnett School in London, had later start times at her previous school that started at 8:45 a.m. four days a week and at 9 a.m. on Wednesdays.
"You get less sleep, even though it's just half an hour less, it seems quite significant," Cohen said about her start time at Convent. "I get tired quicker, and my attention span is shorter."
Academic Support Director Betsy Pfeiffer says it would be beneficial to students if school started later because it would allow them to get in a cognitive space to absorb information and to get enough sleep.
"I would love for it to be a possibility for our school," Pfieffer said. "It's just about shifting the instructional minutes, so students wouldn't have to stay later, and then the sports wouldn't be impacted. It's just a logistical thing, but I don't think there are cons."
California State Senator Anthony Portantino introduced a bill in February that would require California high schools and middle schools to start no earlier than 8:30 a.m. by July 1, 2020. The bill passed in the Senate despite opposition from California School Boards Association and Republican lawmakers, and is currently moving through the Assembly.
"School starting later would be beneficial to my mental health," Wasserman said. "Sports, work, family commitments and homework just make it really hard for people to be well rested and prepared to learn."