Southern-style food goes city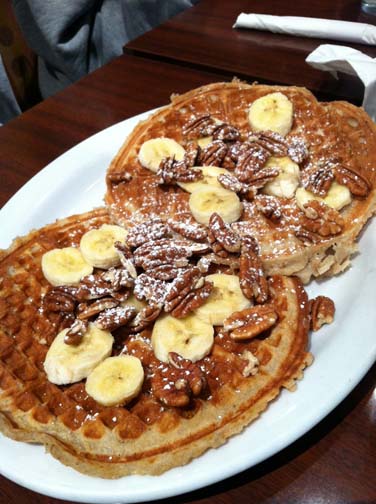 Hang on for a minute...we're trying to find some more stories you might like.
Alice Jones
Reporter
Southern comfort food is a rare find on the organic-slow-food West Coast, but San Francisco is lucky to have a handful of soul food places, and one happens to be not too far from Convent. Gussie's Chicken and Waffles on Eddy and Fillmore is about a 15 minute walk, so you can work off the fried chicken and cornbread on your way back to school.
Customers are greeted at the door with the sweet smell of corn bread and salt wafting from the kitchen. The menu is helpfully highlighted in yellow, orange and red, pointing out the restaurant's best dishes. The polite wait staff gives the restaurant a strong southern feeling, making the meal that much more enjoyable. Two dishes our server recommended were the sweet potato waffles and the Taste of the South.
Taste the South is a smorgasbord of southern cooking – extremely cheesy macaroni and cheese that was a little bland but came with ultra sweet yams that go well with the bitter fresh-cooked collard greens. The dish also comes with a deep-fried yet juicy quarter of a chicken with a crispy crust and the moist cornbread covered with a light honey glaze.
The sweet potato waffles are not a common waffle option in San Francisco, and Gussie's special recipe topped with a little scoop of butter is delicious. The waffles are majorly sweet — without being too much so — and can stand alone without syrup and still be every bit as tasty.
The other waffles on the menu are not typical and manage to be thin and large and light and fluffy while remaining moist and buttery with a good spongy texture. Gussie's makes its own brown sugar syrup that compliments with waffles without overpowering them. Maple syrup is available for an additional $1.
The sweetest waffle option is the banana pecan waffles. Topped with fresh-cut bananas, pecans and powdered sugar, the batter is jazzed up with cinnamon.
The buttermilk fried chicken strips are some of the best deep fried chicken around. Super crispy-fried outside and tender inside, the strips make the perfect lunch with the accompanying side-salad. The waffles fries can be substituted for the salad, but mine could have been crispier and were pretty greasy.
Gussie's also offers a slew of homemade desserts, omelets, salads and sandwiches that all have strong southern influence and and make for a hearty comfort-food meal.

(Visited 484 times, 1 visits today)
Hang on for a minute...we're trying to find some more stories you might like.