Bullying and depression take on a new meaning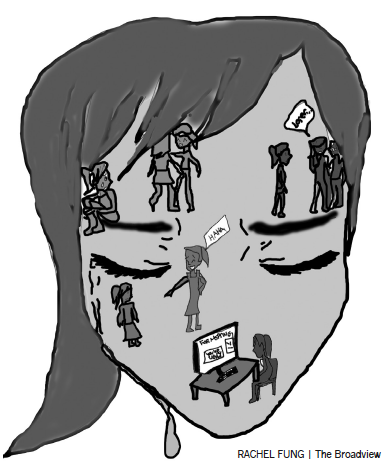 Claire Fahy
Sports Editor
The school bus. The playground. The hallway. And now the computer screen.
One hundred 60 thousand kids did not attend school today for fear they would have to face the torment and torture of bullying, according to the National Education Association. Nearly a quarter of all children consider themselves bullied according to the National Crime Survey. The advent of social networking makes it impossible for kids to escape the torment they face at school since it follows them on Twitter and friends them on Facebook.
Former Rutgers freshman Tyler Clementi is just one of the most recent and tragic examples of the toll such bullying can take and the level to which humiliation is magnified when social media is involved. Five days after his college roommate tweeted about Clementi's relationship with a male student and used a webcam to spy on the couple while they were alone in their dorm, Clementi posted a final Facebook status and jumped to his death off the George Washington Bridge.
"Roommate asked for the room till midnight. I went into molly's [sic] room and turned on my webcam. I saw him making out with a dude. Yay," tweeted Clementi's roommate, Dharun Ravi.
Bullying through use of social media is not confined to college, but can begin as early as third grade as kids have unmonitored access to cell phones and computers.
"Seeing something online is more traumatic than hearing it," a National Suicide Prevention Lifeline volunteer who asked not to be named, said. "When it's online it's always with you. Also, kids hide behind it."
While Ravi's trial and conviction for invasion of privacy, among other charges, has received widespread media attention and outrage across the country, it is only one of millions of examples of the harm caused by bullying. Thirteen million students are bullied every year, according to the Bully Project website.
"Bullying is the worst for young teens," the Lifeline volunteer said. "They haven't established their own self-assurance or self-awareness, and so it gets the better of them."
Ninety percent of students from the fourth through the eighth grade say they are bullied, according to the website of the non-profit "Make Beats not Beat Downs."
"We need to dispel this myth that bullying is just a normal rite of passage, that it's some inevitable part of growing up," President Obama said in a video released by the White House. "It's not … you didn't do anything wrong. You didn't do anything to deserve being bullied and there is a whole world waiting for you filled with possibilities."
Obama is not the only prominent figure lending his image to the anti-bullying movement. Through the It Gets Better foundation, thousands of celebrities, politicians, and normal YouTube subscribers have posted videos with messages of support to victims of bullying.
"However bad it is now, it gets better," Dan Savage, founder of the foundation, said in its inaugural YouTube post. "Your life can be amazing, but you have to tough this period of your life out. You have to live your life so that you're around for it to get amazing."
Savage and his partner Terry Miller created the foundation in response to suicides of lesbian, gay, bisexual and transgender students across the country who were succumbing to the pressure of bullying and taking their own lives. Since its creation, the foundation's ranks have been joined by the likes of Representative Nancy Pelosi, Ke$ha and the staff of Facebook.
"Life instantly got better," Miller promises in the video. "Living well is the best revenge."