Alice Jones
Reporter
Bun Mee's $7 price tag for a Vietnamese, street-style sandwich initially seems a little pricey, but its tasty menu items are worth every cent. With local meats and fresh bread, these sandwiches are perfect for a quick lunch or dinner.
The eat-in or take-out restaurant is named after a variety of bahn mi sandwiches, French baguettes stuffed with meat and pickled vegetables. Originating in French-colonized Vietnam, these sandwiches are a cultural culinary hybrid.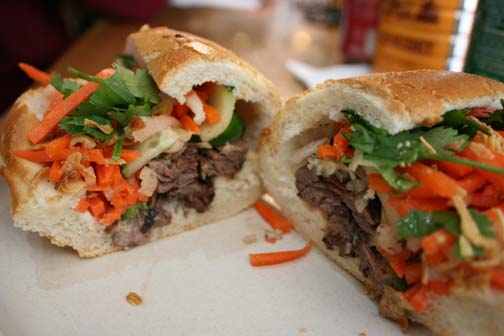 The Juicy Steak sandwich is a good example of this fusion. The roll contains more pickled carrot than meat, but it is very flavorful with a nice lemon tang. The sandwich is surprisingly simple, but high-quality ingredients make for a satisfying meal.
The rice bowls come with the choice of tofu, pork, prawns, steak or chicken. The ability to mix-and-match proteins gives the picky eater or those with dietary restrictions a wider range of options because customers can customize their perfect bowl.
The Saigon Peanut rice bowl is one of the more frequently ordered dishes because it is so delicious. It comes with a shredded cabbage salad, daikon sprouts, pickled shallots and a choice of garlic or brown rice. The dish is topped with chopped peanuts and peanut sauce that has a rich, gooey texture and goes great with the juicy chicken.
A still juicier option is the Caramel Citrus Rice Bowl with steak. Surprisingly, the caramel isn't sweet, but adds a savory, tangy flavor to the rice that compliments the segments of orange and grapefruit, making it one of Bun Mee's best dishes. A jalapeno garnish comes on the side of each rice bowl, but if you can't take the heat, it's easy to scoot them off to the side.
Diners with timid taste buds will find the Smokey Eggplant sandwich a good option. Along with the grilled eggplant, the sandwich comes with cauliflower relish, shaved onion, pickled carrot and daikon, topped with jalapenos and a red curry aioli. The eggplant is pretty bland but very moist and chewy, while the aioli and cauliflower relish adds most of the flavor.
The iced Vietnamese coffee goes well with every dish. The fresh Cafe Du Monde coffee with chicory and the rich sweetened, condensed milk makes for a blend of flavors that soothes the mouth after a bite of a fiery jalapenos. Be sure to try it with lunch or even as dessert.
Traditional bahn mi sandwiches around San Francisco usually run around $2 to $3, but Bun Mee uses local meats, fresh flavorful vegetables and relishes makes the sandwiches worth the higher price.
Bun Mee has free delivery from Arguello Boulevard to Van Ness Avenue and between Broadway Street and Golden Gate Avenue. There is a $3 charger for going as far as Haight Street.
Convent girls at 2222 Broadway luckily just made the cut.