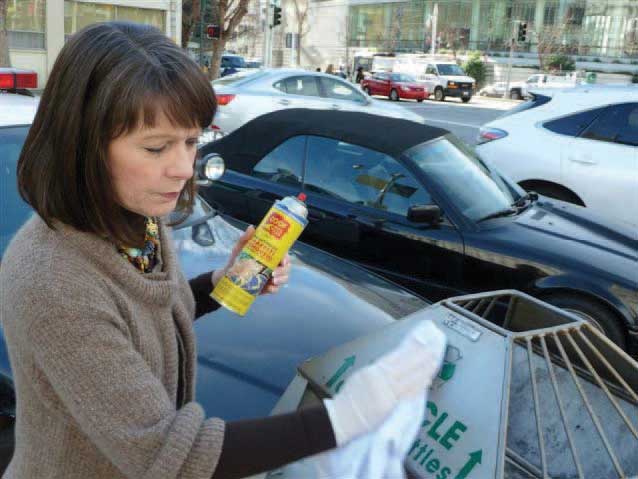 Isabelle Pinard
Reporter

It was just another drive to work for San Francisco real estate agent Paula Mulhall until she spotted a graffiti-covered mailbox near her office building. Parking her Porche Cayenne along the curb, she busted out the paint rollers and gloves.
"Tagging and graffiti vandalism is a crime against all of us," Mulhall said. "One person's actions affects hundreds or thousands of other people who see it. I've taken direct action because I am a 'can do' type of person."
Mulhall started cleaning up graffiti 13 years ago as she drove around the city and saw the unsanctioned spray painting on the sides of buildings, trees and mailboxes. She called the building's maintenance to see if they could repaint the vandalism in the area, but they took too long to respond so Mulhall took it upon herself to get authorized by the City to purchase the "official" city paint for grafitti cover-up.
"I was raised to respect personal and public property," Mulhall said. "It never crossed my mind not to contribute to the beauty of this city. If there is trash on the sidewalk, I pick it up — if there is graffiti, I'll work toward removing it or paint over it."
Mulhall uses the city's official green cover-up paint and uses a high-powered graffiti removal spray as well as camouflage paint that also works on tree bark, not letting any surface hinder her from covering up that graffiti.
After hearing about Mulhall's one-woman graffiti clean-up the Mayor Gavin Newsom asked her to consider taking the appointment of the Mayor's Seat on the Graffiti Advisory Board.
"I said yes immediately," Mulhall said. "I felt that I could learn more about this problem and help the city more by being on the board."
Mulhall was sworn in as a board member on December 21 on the Mayor's Balcony at City Hall.
Although Mulhall has not shown anything less than determination, she says she could not have fought her battle against graffitiests without support from family and friends.
"I am very proud of my wife and all that she does," Warren Mulhall said. "She is making a great contribution to the city and I am behind her every step of the way."
Having been given so much in her life, Mulhall says she wants to give back as much as she is able because San Francisco is an amazing city that she wants to keep it clean and beautiful.
"I try to help San Francisco in every way that I can." Mulhall said. "And I believe that if one sets their mind to it, anything is possible."