Isabelle Pinard
Reporter
When the sun goes down in Singapore, the food vendors of "hawker centers" — food stalls with Asian-style street food — arise with the sounds of eager fryers, chattering pots and a plethora of smells that tickle the nostrils. From this cuisine-loving culture emerged young chef Nona Lim, who brought her knowledge of food and its potential of healthy living to the Bay Area.
"I started Cook! SF in the spring of 2006 to bring fresh organic produce, whole grains and proteins to people's homes," Lim said. "I make them available for those who have full-time jobs, kids or do not have the luxury of going grocery shopping."
Cook! SF consists of meal kits, which can be prepared in 20 minutes and are separated into several categories to please a wide range of food lovers.
"I have a passion for eating good food," Lim said. "When I came to the Bay Area I saw that it had amazingly fresh organic produce which was available to the public, but I also saw that even with the fresh produce people were still turning to fast food for their meals because it was efficient."
Half of the world lives on less than two-dollars a day, according to GlobalWatch. With organic foods pricing higher, such as a rack of apples ranging from $30 to $35 while conventional apples sell for $29 to $30, more people are buying non-organic products according to USDA Economic Research Service.
The meal kits posses many types of eating preferences such as the carnivore, meat lovers meal, grassfed beef, salad lunch, herbivore's choice, sustainable seafood meal and the healthy comfort food meal.
"I liked that I had food that tasted good and it didn't leave me feeling hungry like the way other food plans do,"  Sonja Shin, wellness writer for the Examiner said in a phone interview. "I remembered that Cook! SF gave me three meals a day, and made their dishes with ingredients that are primarily local and organic. It was delicious and I learned how to make fantastic new dishes."
Meals range from $14.95 to $17.95 and includes seasoned, chopped or marinated entrées. The food is vacuum packed and partnered with virgin olive oil for cooking as well as instructions for the 20-minute preparation and nutritional information.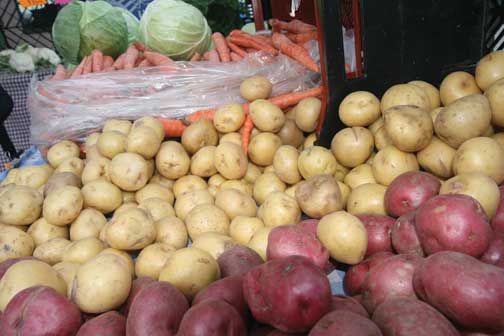 "We have had Cook! SF at our store for two years now," Ray Azar, who owns Mayflower Market and Deli on Filmore Street, said. "It was a little slow at first, but when Nona Lim and her other chefs started demonstrating in our store for their meals, our customers loved it."
Lim offers families a chance to come home to pre-prepared ingredients from local markets such as Marin Sun Farms, Golden Gate Meat Company, Ports Seafood and Veritable Vegetables.
Meals can also be purchased at Cal-Mart, Faletti's and Nature's Best Food and Bayside Market.
"We now have customers who come in regularly for their Cook! SF meals," Azar said. "They are doing very well so far and the customers who stop by from work appreciate the quick grab and go of Cook! SF knowing that they have a good meal when they go home."