'Groundbreaking' IB Visual Art final exhibition opens
WEB EXCLUSIVE After a year and a half of preparation, creation and curation, senior International Baccalaureate Higher Level and Standard Level Visual Arts students presented their complete collections this evening in the Syufy Theatre Lobby as part of an exhibition called "Ground Breaking Beginnings."
"The most exciting thing about tonight's exhibition is to see how excited the students are to share their work," Visual Arts Department Chair Rachel McIntire, who helped to organize the exhibition, said. "To see other people engage with their work is something they've never experienced before, and watching their peers, teachers and former teachers from the side is an eye-opening experience for the students that I love being a part of."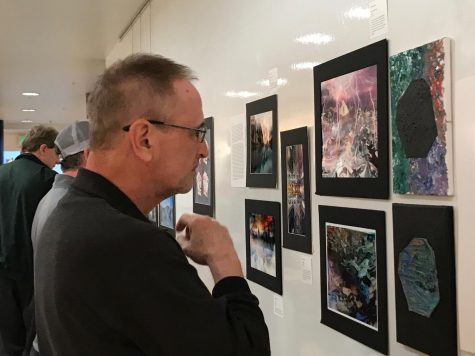 A total of 30 seniors were required to curate their exhibitions as part of their internal assessment for the IB Visual Arts course at the end of the two-year program. HL students were asked to compile eight to eleven pieces and SL students were required to present four to eight pieces. All students were asked to mount their own works and write a curatorial rationale.
"As someone who is comfortable in digital and film mediums, the requirements of the exhibition really allowed me to step out of my comfort zone and expand my portfolio as an artist," senior Frederick Kiaie, who presented five pieces, said. "The whole experience of having to curate my own works really made me realize what I am capable of as an artist and as a student."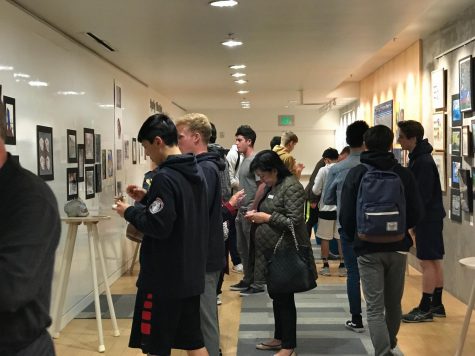 Preparation for the exhibition began in March, which gave students a month to select their pieces to present. They also had to write a short description of each piece and an artist's statement to be displayed alongside the installations.
"The planning of the exhibition itself began a month ago, but the whole process of creating and curating their work has taken the students since the beginning of their junior year," McIntire said. "The different aspects [of their portfolio and exhibition] that the students have been developing over the past two years documents their thoughts and tells the story of their journey as artists."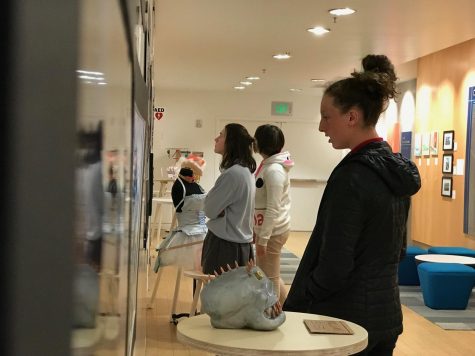 The official exhibition took place this evening from 5:30 p.m. to 7 p.m. and the pieces will remain in the Syufy Theatre Lobby for the next few weeks.
"It's surreal to see a collection of my work on display at school," Kiaie said. "I completed the film in December of 2016 and the painting series took about five to six months for me to finish — so the works I presented tonight are the product of almost two years of work. This exhibit has not been easy but has allowed me to develop my tenacity and learn to love the work that I create — because it's hard to share work that you're not proud of."