Exploratorium exhibits hands-on fun
Pier-ing into world of science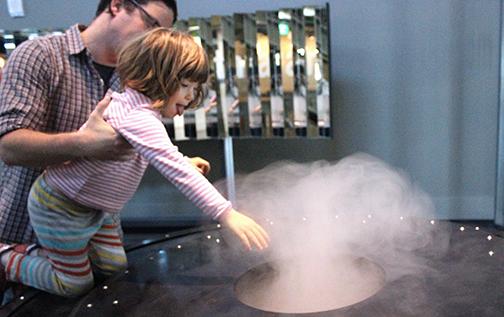 Having not visited the Exploratorium since the age of 7, I decided to return, visiting for the first time at its 3-year-old Pier 15 location, right down the walkway from the lively Ferry Building farmer's market.
Ten years later, it does not disappoint.
During the 2013 move from the Palace of Fine Arts, the Exploratorium expanded into a new nine-acre space featuring The Exhibit Shop in the center of the building, which allows onlookers to observe volunteers, youth researchers, engineers and physicists tinkering in real time with machines and tools to produce future exhibits.
The space's dark walls and bright, tall ceilings attract people of all ages to its displays, as witnessed, a 4-year-old girl playing a team game with four older visitors whom she'd never met.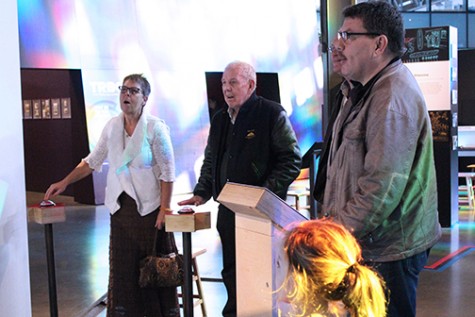 The social atmosphere combined with a hands-on interactive experience lends the Exploratorium to visitors, unlike other museums, that only permit hushed tones and restrict visitors to socializing with the only people they came with.
By engaging all five senses, the exhibits immerse visitors in discovery of the human body and mind, as well as new capabilities and perspectives.
One such exhibit, "Out Quiet Yourself," occupies a hallway filled with gravel where sensors score users on the impact their footsteps have on the gravel, taking volume and weight into consideration.
Exploratorium exhibits are not designed for the germaphobe type as the facilities are used and touched by hundreds of visitors per day. As a hands-on science museum, one must roll up their sleeves and save some Purell for later.
Visitors should attend with at least one friend so that they can experience exhibits that involve a partner and solo attendees should be ready to work with other museum goers. An entire gallery dedicated to "The Science of Sharing" requires collaboration.
Visitors leave the Exploratorium questioning perspective, adapting their ears and eyes to illusions in sound and sight.
A Cinema Arts showing of a series of short bird documentaries called "For the Birds," runs a combined total of 28 minutes. The Exploratorium hosts themed documentary screenings focusing on subjects from singing to sodium on Thursdays and Saturdays.
After I left, my companion stayed an extra two hours to explore the Bay Observatory, which includes a framing of a live camera projection of the Bay Bridge in a darkroom. Multiple tables in the observatory present maps and information about fog levels, earthquake fault lines and geological information pertaining to the Bay Area.
The Exploratorium, located at Pier 15, is open from 10 a.m. to 5 p.m. Tuesday to Sunday and is closed Mondays. Tickets for Bay Area residents are $19 for students, teachers and seniors, and $22 for adults. Admission will be free on March 14 in honor of Pi Day.