Mostly organic boba tea shop perfects sweetened tea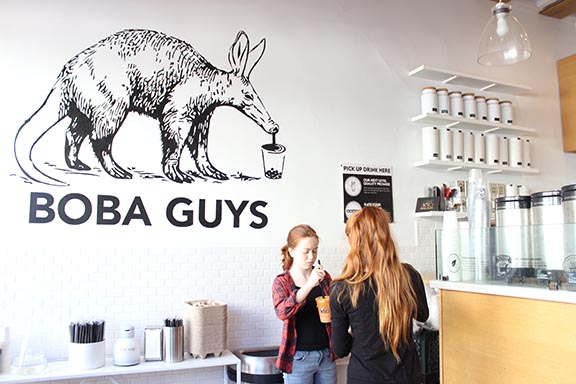 Locals and visitors alike line up out the door and down the block outside of the self-proclaimed tea bar with the "highest quality boba in San Francisco," drawing customers off the Mission's populous Valencia Street.
Patient patrons enter into a minimalist white-on-wooden motif tea bar to try Boba Guys'  impressive boba tea selection, facing a black on white decal of the shop's boba-slurping anteater mascot.
The boba — chewy, honey-soaked tapioca pearls that add both texture and flavor to each drink — are not the only item that gives Boba Guys bragging rights. A variety of incomparably revitalizing house-made tea blends sets Boba Guys apart from other Bay Area boba joints.
Boba Guys offers both heated and iced drinks from a menu of year-round flavors like jasmine, horchata and "classic milk," and a choice between three additions — referred to as toppings — include its popular tapioca pearls and house-made grass and almond jellies.
While most boba shops in the Bay Area rely heavily on artificial syrups and flavorings, Boba Guys' use of natural and organic resources captures distinct flavors. Real jasmine, rose, strawberry and lavender exemplify the best of its signature and seasonal blends.
Nervous first-time visitors might want to start with the Jasmine Milk Tea, its flavor a step above the basic, but no-less-tasty Classic Milk Tea.
The premium Indian Chai and Rose Black Tea stand apart as original and astonishingly rich blends. The chai blend achieves the ideal balance between sugar and spice without sweetener.
Seasonal selections include a light Strawberry Jasmine Fresca, which makes for the perfect refreshment, but a large is suggested because a regular 16-ounce cup leaves the customer wanting more.
The locally-sourced organic Straus Creamery milk has a tendency to be too thick and creamy for my taste, albeit better than the Coffeemate creamer powder used by other boba tea shops. Soy milk and Califia Almondmilk are perhaps better alternative options.
A house-made simple syrup of white and brown sugars that sweetens all drinks overwhelms most tastes, but chatting with the "bobaristas" increases the customer's chances of getting the perfect level of sweetness.
Customizable high quality thirst-quenchers served with a smile from bobaristas for around $5 constitutes a steal by San Francisco standards.
Boba Guys is located at 19th and Valencia streets and on Stockton Street in Union Square. Loose-leaf tea blends are available online. The 19th Street location is open noon to 9 p.m. Monday through Thursday, until 10 p.m. Friday and Saturday, and 6 p.m. on Sunday. The Union Square location is open 8 a.m. to 9 p.m. Monday through Thursday, 8 a.m. to 10 p.m. on Friday, noon to 10 p.m. on Saturday, and is closed on Sunday.