Wrist-worn devices help track fitness, health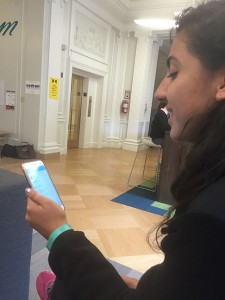 Alyssa Alvarez
Senior Reporter
The hustle and bustle of school and sports can cause one to wonder about fitness, diet and sleep, but this has been simplified by fitness tracking devices and their new technologies that have become popular for students.
Fitbits, Jawbone UPs and Nike FuelBands accounted for 97 percent of all smartphone-enabled activity trackers sold at brick-and-mortar stores or through big e-commerce sites in 2013, according to NPD Group.
"We have a lot of research and data to back up the benefits of our bands," Jawbone Research Assistant and SHHS senior Dunham McBride, said. "Having your fitness and activity levels tracked really encourages you to up your numbers. Essentially, the feedback helps people know if they need to change their lifestyle."
McBride began working at Jawbone as a research intern last June and started as a research assistant last November, working part time during free periods and after school.
"Our products give feedback on the heart and how healthy your heart is," McBride said. "People will have a better sense of if they need to do more cardio or if they should go talk to a doctor because they have a really high heart rate."
Jawbone and Fitbit's band designs are very different, but both track activity, steps, food, sleep and calories and report the information through each program's apps. Forty-three percent of users walk farther when using a band, according to Fitbit.
"I am always looking at how many steps I've taken and the miles and information like that," senior Sabine Dahi said. "It's kind of a nice thing to have in the back of my mind because it motivates me to live a healthier lifestyle than I normally would."
Most fitness trackers have free applications that require users to sync the bands daily to their phones. Jawbone's new Up3 band allows allows syncing information through a Bluetooth connection to the band automatically.
"I can see how much I sleep at night, and I can see my sleeping patterns, which is helpful for knowing why I am so tired," sophomore Lillian Lachman said. "It also inspires me to to be more fit because I want to see the number of steps I take and activity go up."
Fitbit's products allow users to create food plans, design meals and set weight goals.
"I started inputting the food to the Fitbit app because I am a big snacker," Dahi said. "Having to do the food process made me realize how much I was snacking and that has helped me eat a little more healthier."