Tatiana Gutierrez
Editor-in-Chief
While some students anticipate moving to an East Coast college or university, other seniors are opting to remain in the Bay Area because the familiar location can provide comfort while acclimating to a new environment filled with thousands of people, as well as can save money on travel costs.
"A lot of my friends tell me that they would never go to college close to home because they just needed to get away,"  Bianka Quintanilla-Whye ('13), a sophomore at Stanford University, said. "As a homebody, I find comfort knowing I'm only a 30-minute drive away from my family."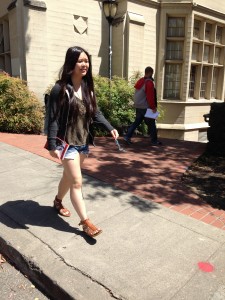 Being in close proximity to home allows for students to make the occasional laundry run while easily maintaining contact with their family, and visiting for holidays and birthdays, according to Kellie La ('14) a freshman at the University of California at Berkeley.
"It's been great actually," Fiona Giarratana Young ('14), a freshman at the University of San Francisco, said. "It's nice because I can go home if need be. It's the perfect distance from my house because it's not too far. My parents love it too."
While it may be tempting to visit home frequently, learning to live without the support of one's parents is an important skill.
"I expected my mom to want me to come home all the time," Quintanilla-Whye said. "She's really understanding and knows I'm busy with academics and hanging out with friends. There's always something going on, and I feel like if I went home often I would miss out on fun things happening on campus."
With only being a short car ride away from their house, college students can determine whether to branch out or stay within their comfort zone.
"It's the little things that build character," La said. "When I got sick, my parents kept offering to stop by, but I wanted to prove that I don't need them to help me with every little issue, and I was able to manage through that week."
Students not only occasionally get to escape the pressures of college life when they are close to home, but they do so at a low cost.
"One thing I love about going to college close to home is that is saves a lot of money," Quintanilla-Whye said. "I don't have to worry about plane tickets or storage for my stuff over the summer."
The average cost of tuition and fees for 2014-2015 was $9,173 for California residents attending a public-four year-college and $31,231 for private colleges, according to the College Board.
Although the fees calculated in tuition may include use of campus facilities, they exclude the additional thousands of dollars college students spend yearly on room and board, books and transportation.
College students attending private universities spent an average of $2,609 in personal expenses — such as local transportation, clothing and entertainment — while students enrolled in public universities spent $3,242 in 2014-2015, according to the College Board.
Location, though, is only one factor when deciding on a college, according to La.
"It wasn't so much about just choosing a college close to home, as it was about choosing Berkeley," La said. "Berkeley itself fit into what I wanted. Had it not been for this specific school and environment, I probably would have attended college on the East Coast."