2015-2016 Student Body elected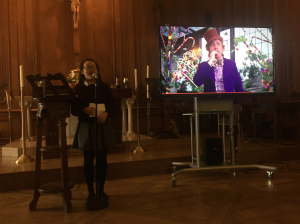 Kristina Cary
Senior Reporter
Student body elections took place in the chapel, where candidates gave speeches on their behalves before the rest of school. Students then voted electronically through an online poll open between 10:30 a.m. and 12:25 p.m., and results were emailed to students at 3:32 p.m.
Next year's Student Body will be led by 2015-2016 Student Body President Liana Lum and Student Body Vice President Willa Hegarty.
"I'm very excited to work with the rest of the student body," Lum said. "I hope to continue to facilitate communication between faculty and students, and to work closely with the class student councils, so we can get the input of all the students and help them be part of the decision-making process."
The rest of the Student Body will consist of Treasurers Cole Fuetsch and Sophia Slacik, Secretaries Kendra Harvey and Nora Hanak, Activities Alex Farran and Laurel Cinti and Publicity Makena House and Victoria Oestermann.
"All the candidates were amazing people," Hanak said. "I feel we're all going to work together as a team really well."
The current members of the Student Body will remain in office until the Friendship Ceremony at the end of the year, when they will formally pass off their positions to the juniors who won today's elections.
"My advice is to start planning early, whether it be for Congé, prom, or any other events because I know our student body was a bit short on time this year," Amanda Mah, the current Student Body President, said. "Although this was one of our challenges, we all worked together very well, which would be my hope for next year's student body."