Students participate in design thinking symposium
Kristina Cary
Senior Reporter
Students gathered in Syufy Theater this morning for the start of the a design thinking symposium centering on the theme of "Women and Global Impact; If not me, then who?"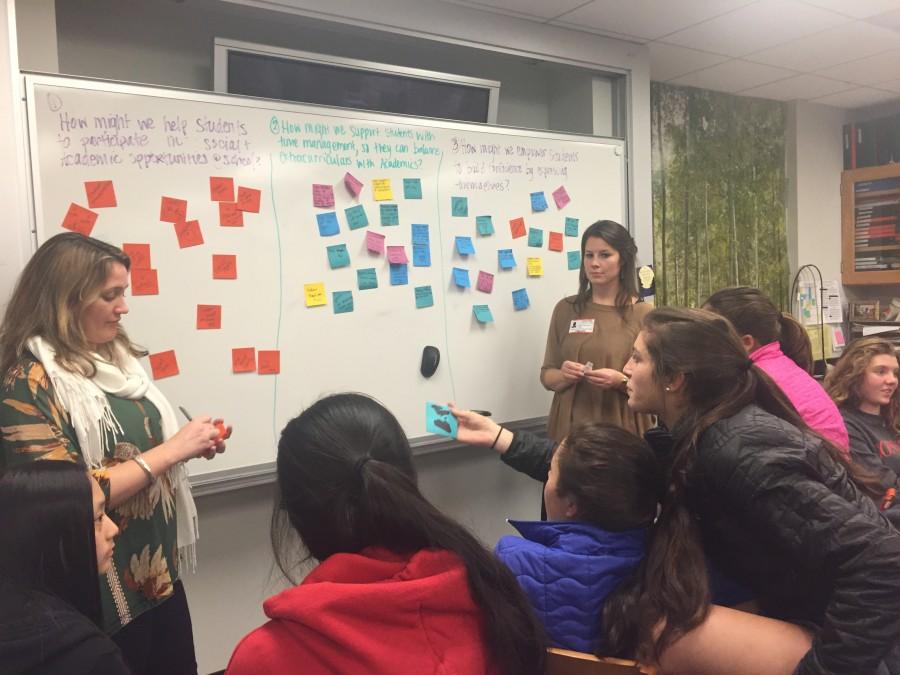 "Our visual mind is an extraordinarily powerful part of our brain that we tend to neglect," Keynote Speaker Dan Roam, who emphasized the power of drawing out ideas, said. "We'll find that we'll be able to see the bigger picture, and we're often able to find solutions that we wouldn't discover through just talking."
Other speakers included Embodyindia cofounder Tiana Abdulmissah, Playworks Executive Director Robert Sindelar, and IDEO's Senior Design Lead Jen Leonard.
"I think from my presentation specifically, the main takeaway was for people to see how easy it is to turn their passions into something greater than themselves," Tiana Abdulmissah, who is also a class of 2011 graduate, said. "You can take anything you're interested in or any skills that you have and apply it towards a common good, instead of just using it for your own benefit."
Students were then divided into small groups, where they interviewed both middle and high schoolers to come up with an idea to better prepare middle schoolers for high school.
"I thought it was a great experience because it connected the community, bringing together people from all grade levels," junior Willa Hegarty said. "Their perspectives made me think about the different ways we could help the community."
Groups then brainstormed three questions to help generate a product benefitting future freshmen.
"The seventh grader we interviewed was really worried about her social skills going into high school, so we came up with an idea to welcome in new freshmen through a quarterly lunch," senior Shirley Yang, whose group pitched the "Cor Unum, Cor Lunch" app, said. "Each student is required to fill out a questionnaire about their interests, and the app will pair each student with a lunch mate depending on common interests."
The symposium concluded with students showcasing the products they designed to the rest of the community.
"I felt really comfortable on stage because it was with my whole group, we were all down with what we were saying, and we felt really passionate about it," freshman Edna Tesfaye, who also worked on the Cor Unum, Cor Lunch app, said. "It was all very structured too, and we knew what we would be saying before we went on stage."
"I think the Cor Lunch app would definitely have benefited me because I remember that when I was a middle schooler I was very worried about the whole 'lunch table scenario' in high school. I remember I did really want to find friends," freshman Ariana Davidis said. "I also liked the idea of student-run electives for pursuing passions."