SHHS seniors weigh service academy and military options in college decisions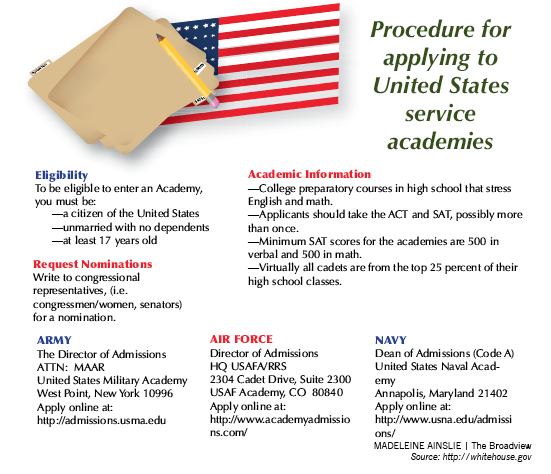 Emily Seeley
Reporter
While most seniors are await¬ing letters of decision from their top choice colleges, some are looking towards future careers in the military through ap¬plication to service academies and campus training programs.
"The Naval Academy was very interesting to me because you're able to start your career early," senior Alex Fong said. "You're getting specific train¬ing, and then afterwards you go into the Navy, of course."
Service academies are publicly funded schools that fully cover students' college education for four years, requiring a four or five year service commitment from the students after graduation, according to Cesar Guerrero, Stuart Hall college counseling director.
Most service schools allow students to decide to drop out with no service requirement within the first two years of training at the academy, however students would owe the school over $50,000 per year they attend.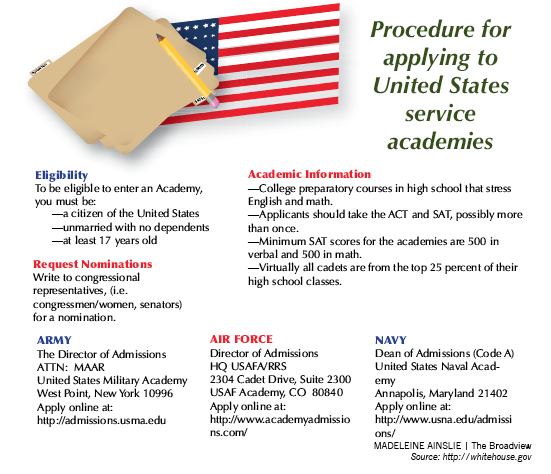 Other options for training such as POC, preferred occupational choice, allows students to train in the reserves, while still attending many public and private universities, rather than an academy.
"Since I was three, I was interested in the Marines because of the affiliations my family has with the military," senior Jean-Luc Seltenrich said. "My dad was in the Marines and my godfather was in the Army. Knowing that if I join the military and serve, that I would be somewhere and I'd be protecting somebody means a lot to me."
Seltenrich plans to attend the University of Southern California in the fall because of the nearby Marine base and Navy ROTC programs at USC. The U.S. Department of the Navy founded the Naval Reserve Officer Training Corps to generate a group of qualified officers within colleges in case of an emergency.
"Commitment is a big component, and I hope it's not a deterrent but something that the applicants realize," Guerrero said. "The value is, you're going to get a world-class education in a small environment. The Naval Academy is less than 2,000 students." Applicants go through an extensive "rolling application" process in which students begin applications during spring semester of their junior year in high school. High school seniors, college students and members of the Army may open an admissions file by completing a candidate questionnaire, according to West Point.
"Candidates will be evaluated for admission based on their academics, demonstrated leadership, and physical fitness," the West Point website states. "To compete for admission, candidates must also meet medical qualification standards."
A complete transcript, including faculty recommendations, high school class ranking and SAT or ACT scores are used in evaluation of each applicant. Standardized testing scores for students placed in extended-time are not accepted.
"Students fill out an application initially, send it to their regional admissions counselor and then from there they'll send you the next steps," Guerrero said.
Admission is granted through a system of nomination, qualification, evaluation and selection. A nomination is the legal authority for the U.S. Military Academy to con¬sider a candidate for admission.
Convent and Stuart Hall are such small schools that the application rate to service acad¬emies changes rapidly, according to Guerrero. Usually a few students are interested each year — this year, there are two applicants from Stuart Hall.
"I don't doubt my decision, (to apply to an academy) though a lot of people in both school and my life have been negative about it and have said bad things," Seltenrich said. "I've always been proud."