School improves security technology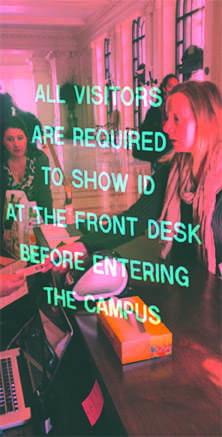 Tatiana Gutierrez
Senior Reporter
Even before the Sandy Hook Elementary School shooting in Newtown, Conn. and the Midland City, Ala. school bus shooting and hostage situation, Schools of the Sacred Heart has been reviewing and implementing a new system of screening and identifying visitors on campus.
"As a dean, safety is a primary concern, so knowledge that our campus is secure and has well thought-out protocol security feels extremely important," dean Rachel Simpson, who is also a parent of a CES third grader, said. "As a parent, nothing is more important than being aware of the security that protects both my child and my students. My most important worry is each child's safety on campus."
Parents and other visitors to the Broadway campus are now given a printed sticker with their name and picture, issued after swiping the visitor's driver license at the front desk. The swipe interfaces with Raptor, security software that checks visitors for sex offender history.
"I just scan in the drivers license and on the computer screen it will have their first name, last name, birthday and license number," receptionist Rachel Miguel said. "In my notes I will put their destination and print out a pass for them."
The schools' Emergency Operations committee is investigating improvement of security protocol and heightened the security at the front desk and outside gates as a precaution to avoid future security breaches.
"The idea [for the new badges] came from conversations I had with president Ann Marie Krejcarek about school security and safety for all who are on our campus," Geoff Smith, who heads up Emergency Operations said. "I have always felt our schools had a lack of knowing who is on our campus at any given time."
Krejcarek used Raptor at her previous school and it proved to be very efficient, according to Smith. Raptor replaced the system of guests signing a sheet of paper and getting a neon sticker with the date before coming into the campus.
"I think [Raptor] is good system, and there is no sense in turning back," Simpson said. "It is very important when working in a community of children to know who is on campus at all times."