Club serves homeless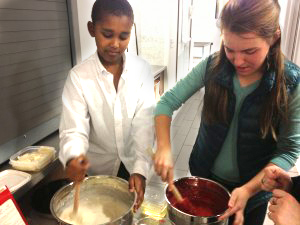 Web Exclusive
Elizabeth Smith
Editor-in-Chief
After two years of dormancy, senior Claudia Tropp revived Cakes for a Cause, a club with a mission to deliver baked goods to homeless shelters throughout San Francisco.
"I always thought it was fun when I participated as a freshman," Tropp said. "I didn't know why it fell apart, so I thought I'd start it back up again — it has such a nice mission."
The club had its first meeting on Thursday after receiving permission to use the cafeteria's oven. Shortly after laying out cupcake wrappers, Nahom T., a Stuart Hall for Boys fifth grader, took notice and asked to help.
Tropp welcomed him into the club, handing him a spoon.
"I'm a great baker, and I love to help," Nahom said.
After the cupcakes came out of the oven, Tropp and senior Mary Katherine Michiels-Kibler drove them down to the Hamilton Family Center, a shelter for families without permanent housing.
"They were so nice and grateful at the center, it just made me want to help that much more," Michiels-Kibler said. "This shows them that someone cares, even with something as small as a cupcake."
(Visited 255 times, 1 visits today)