Elizabeth Smith
News Editor
The Susan G. Komen for the Cure foundation — whom CSH has supported through its annual participation in Race for the Cure for the past 17 years — reversed its decision to fund Planned Parenthood following public outcry from the public, including Komen supporters and donors.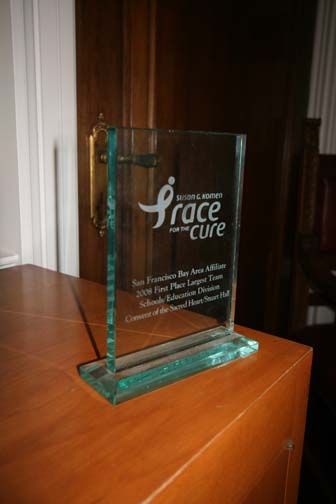 The $700,000 grant for Planned Parenthood — while being just a minor part of the Komen foundation's grant budget — is a major part of Planned Parenthood's health care fund. Planned Parenthood provides health care to one in five women in America, according to Cecil Richards, president of Planned Parenthood.
"This contribution will help ensure that politics don't interfere with women having access to health care," Richards said in a statement.
While Planned Parenthood does perform abortions, which are objectionable to many religious and political groups including the Catholic Church, Planned Parenthood as a whole is the only viable option for many poor and working women without health care. Planned Parenthood provides low-cost and free services such as cancer screenings, birth control and family planning, as well as testing and treatment of sexually transmitted disease — not just abortions.
"The divisiveness caused by the original Komen decision [to cut off funds] did not reflect well on the foundation's positive work," Sen. Dianne Feinstein (D-Calif.) said in a statement. "[Restoring funding] is a victory for women's health and a huge win for all the men and women who made their voices heard this week."
Health care is a basic right that should be guaranteed toevery person, regardless of class or ability to pay, according to Pope Benedict XVI in a statement read by Cardinal Tarcisio Bertone at the 25th International Conference of the Pontifical Council for Health Care Ministry at the Vatican in November 2010 .
"Justice requires guaranteed universal access to health care [and something] commonly accepted as a fundamental human right," the pontiff said.
The Komen foundation's stated goal — as the world's largest charity devoted to curing breast cancer — is to find a cure for this disease and eradicate it. Komen estimates one in eight women in the United States projected to develop breast cancer.
Resuming funding for Planned Parenthood promotes advocacy for women's health, no matter the means.
"We want to apologize to the American public for recent decisions that cast doubt upon our commitment to our mission of saving women's lives," wrote Komen founder Nancy Brinker and the Susan G. Komen Board of Directors in a statement following the restoration of funds. "It is our hope … [that people] reflect on how grants can most effectively and directly be administered without controversies that hurt the cause of women."
Brinker continues with a plea to keep women's well-being separate from the politics surrounding resentment to the restoration of Planned Parenthood funds. Komen's bigger picture focuses on the projected 226,870 cases of invasive breast cancer in women and how to treat them, and by giving grants to Planned Parenthood, it opens the door to health care for more women.
"It was imperative that the Komen foundation made the decision to help fund Planned Parenthood because one of the main things they do is educate," Women's Studies student Chiara Figari said. "People are stuck on the fact that they give some abortions. They forget Planned Parenthood's main goal is to educate — they don't see how vital that is in our society."