Alice Jones
Reporter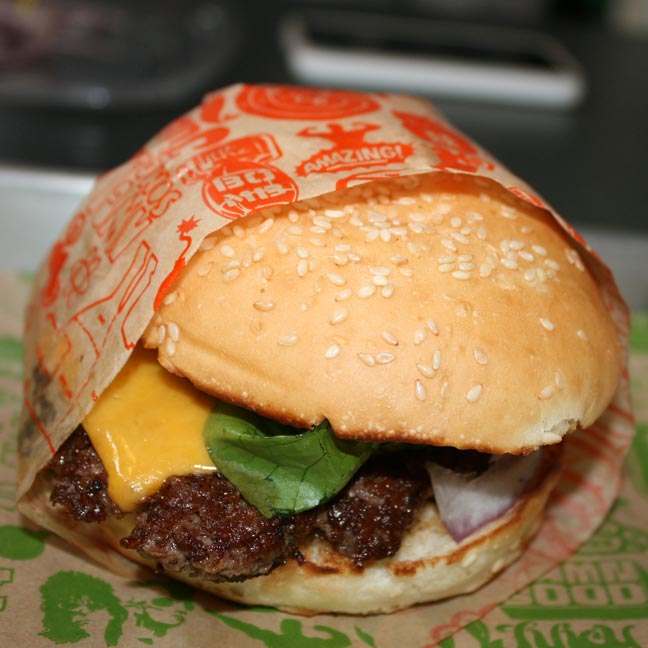 Super Duper prides itself on Bay Area-grown and produced products from the buns to the meat on its burgers. The menu is simple and sticks to just two types of hamburgers —(4 ounces or 8 ounces; bacon and cheese, extra), two vegetarian options (veggie burger or portabello sandwich) and a chicken sandwich, making it easy to decide what to eat.
The biggest decision is the choice to get a Super or a Mini Burger. The Super Burger, $6.50, is juicy and not too flavorful, but can be jazzed up with the offered condiments — which are the only items, along with the chicken, that aren't organic. The burger is large and hard to manage — the drippings makes it a messy meal, but its juiciness makes it worth it.
The buns are made fresh everyday by La Boulange Bakery, making the burger that much more enjoyable. The addition of house-made pickles — that aren't too crisp but have a nice spice — make the burger seem that much more personal.
The Mini Burger is perfect for a smaller appetite. Its is plenty for a full meal and is $2 off the Super Burger, making it a customer favorite. Don't be fooled by these Minis — they are not sliders. The name gives that impression, but they are actually a decent size.
For an alternative to the burger, try the 100 percent free-range chicken sandwich. The house-made chipotle aioli isn't too over whelming but has a slight hot spice that makes the tender chicken just that much more delicious and flavorful.
The thinly-stripped fries have just the right amount of salt and are so delicious, it's foolish to not order them. The fries make a nice companion to anything on the menu.
Super Duper offers the classic shakes — strawberry, vanilla and chocolate — made with organic ice cream from Strauss Creamery. The popular chocolate shake is more creamy then chocolaty, but still works with the classic burger, shake and fries combo.
The salad is a bit lackluster and comes in a plastic box, making it feel as if its being served in a cafeteria. The rather bland cucumber, tomato, Romain lettuce and an abundance of onions come with a Caesar dressing that doesn't help the flavor.
Using organic products is one of the big business grabbers for today's budding restaurants and has increased the popularity of Super Duper. Although organic produce can get expensive, Super Duper has managed to keep affordable prices for its above-average burgers.