New passes complicate Muni system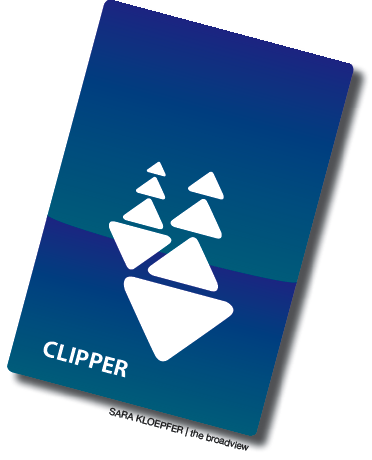 Sara Kloepfer
Managing Editor
When I learned that the colorful Muni Youth passes were being replaced by the new blue Clipper card, I tried to purchase one as soon as possible. "Tried" being the operative word.
I attempted to purchase a Clipper card from Walgreens, only to be told that monthly youth passes had to be verified with ID at an official Muni office. That is how I found myself on a Saturday morning waiting for my number to be called at the Muni Customer Service Center.
While almost everyone else was called up to pay parking tickets, I waited impatiently with my passport in hand. Finally my number was called, my age verified and passport returned. As I reached into my wallet to load money onto my new Clipper card, the woman behind the plastic screen told me, "Thank you, your Clipper card will arrive in six weeks." I walked away wondering how was I supposed to ride the bus for the next month and a half.
The introduction of this all-purpose pass for Bay Area public transportation was intended to provide unified payment for five major transportation agencies — Muni, BART, AC Transit, Golden Gate Transit and Caltrain. SamTrans and Santa Clara Valley Transportation Authority plan to join. These seven agencies represent 90 percent of Bay Area transit riders. With such an extensive customer base, Clipper's recent problems have a widespread effect.
The most notable issue is riders are using Clipper card to scam the system. Cards are meant to be refilled with money like a credit card. Like a credit card, Clipper cards can "go negative," meaning the card can register a negative balance yet still permit entrance to any service. This flaw in the design allows users to load the minimum $2 on a Clipper card, ride wherever they desire for as long as they want and never pay off the negative balance.


The Metropolitan Transportation Commission (MTC) programmed a negative balance into the card to help customers exit a transit system when there are not any fare machines or customer service personnel to help them add money to their cards. Most public transportation is based on an expectation of customers being honest, but Clipper makes it easier to cheat than ever before. As soon as the scam was revealed, over the Internet and through word of mouth, the average cases a day of cards going negative has nearly tripled, according to BART Executive Director Dorothy Dugger.
Another way to cheat the system lies in Muni's new $30 million fare gates. The gates open automatically when passengers exit from paid zones in the downtown stations, so anyone can wave his or her hand over the gates' motion sensors and slip through to ride the train for free. Of course fare inspectors are still in place, and fare evasion is a $75 citation, but unless every agency — BART and Muni especially — pay for the constant presence of fare inspectors, the number of rip-offs will continue to rise.
Besides scamming, Clipper card's new policies are complicated at best and inefficient at worst. Youths and seniors have to register at an official office, then wait up to six weeks for their cards to arrive. During this time period I have to pay 75 cents every bus ride, sometimes twice a day because transfers expire after 90 minutes. If a youth or senior travels to and from school or work every day for six weeks, the total cost will amount to $63. Since the usual $20 monthly passes are unavailable to make way for Clipper, this is the expensive alternative.
Public transportation is mainly aimed at those who cannot afford alternate means, such as a car. But the easiest way to add money to a Clipper card is online, leaving those without a computer or credit card to find a participating retailer or "Add Value" machine at a transit station. Instructions for Clipper cards are also only available either online or at a transit station.
By becoming less accessible and affordable, Clipper is essentially alienating a large portion of its clients. The announcements on Muni are now in Spanish and Mandarin in addition to English in order to accommodate San Francisco's large immigrant population, but these same clients are likely to be the most confused by Clipper's new rules.
The most puzzling part of all is why Clipper came about in the first place. I cannot speak for the transit systems outside San Francisco, but my last six years of riding Muni have been easy to maneuver and simple to pay for. As MTC realizes the problems arising from Clipper, they may also realize something essential about the previous system — If it ain't broke, don't fix it.