Isabelle Pinard
Reporter
In the midst of the bustling crowd and street music cacophony at the 24th and Mission Streets BART station lie canvases waiting to be transformed by the hands of graffiti and mural artists in a community art project.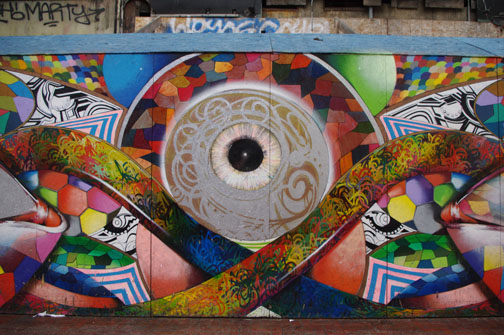 The San Francisco Arts Commission and Department of Public Works created the Mobile Free Wall Program that provides temporary areas where urban artists can apply their skills. These walls are open to all members of the community at any art backgrounds and levels.
"The project allows aspiring artists to show their creativity in a safe, legal manner and is a program that reduces graffiti vandalism," according to the DPW in their Sunday Street Statement at sf.gov.
The Program focuses on teaching kids and teen street artists interested in pursuing an artistic career in graffiti, according to SFAC, helping amateur street artists to develop their own styles and express themselves in legal ways.
Graffiti mural artists like Chor Boogie spray into action by performing in shows and programs like the Mobile Free Wall. As the host of the first Mobile Free Wall Activity at the intersection of Filmore and Turk Streets, Boogie serves as an example to youth of a street artist who has a full-time career in art.
"[Graffiti] is what defines my work and defines me as an individual, and allows me to still keep an unselfish perspective on why do I do this," Boogie said.
Strict laws on public property arrest people doing graffiti without consent from the owner, according to The Graffiti Advisory Board, appointed by the Mayor Gavin Newsom and Board of Supervisors to review and evaluate the services and programs in place to respond to graffiti prevention. These free walls can be an excellent way for artist to practice their style and meet other graffiti artists in their area.
The Graffiti Advisory Board is considering an expansion of Mobile Free Walls and possibly installing permanent walls for graffiti artists in an effort to prevent vandalism.
"These free walls bring creativity to our city," Boogie said. "Graffiti artists can use those walls legally to spray their style and 'advertise' their talents to people who might want to sponsor them."
The SFAC and DPW also recently launched a school-based Where Art Lives program, made for educating fourth and sixth graders the difference between art and vandalism.
Teaching the next generation about the basics of street art and consequences of illegal acts, heightens the artistic skills of kids who join Where Art Lives program to take part in the Mobile Free Walls and instruct young artists who through imagination, creativity, and originality can effect an entire neighborhood with their work.
"If there is no imagination we wouldn't have creativity in art," said Boogie. "Imagination plays an important role in an artists life because our everyday life is an art form and what we create is the perception of our imagination. That is the beauty of being a graffiti mural artist."