Unprecedented campaign draws to a close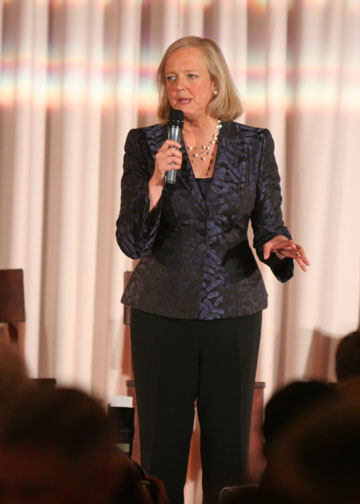 Zoë Newcomb
Editor-in-Chief
Announcements of candidacy for Governor of California over a year ago brought about the usual flurry of speculation and rumors. Now, with just a few days to go until the polling booths open, this gubernatorial race has proven itself to be anything but ordinary.
Former eBay CEO and millionaire Meg Whitman and 72-year-old former California Governor Jerry Brown, the Republican and Democratic nominees, respectively, are anything but traditional candidates running traditional campaigns.
Whitman has been a controversial candidate since announcing candidacy — her lack of political experience foremost in her opponent's attacks. On several occasions, her political positions have been pushed aside in favor of focusing on hot-button issues — like the immigration status of her former housekeeper. However, Whitman's unique campaign — over $121 million of which was paid for out-of-pocket — began mobilizing colloquial and catchy TV, radio and print ads over a year ago, pushing her corporate experience as just the change California needs.
Arguably, the "New California" campaign has paid off — in a state where only 30 percent of voters are Republican, compared to 44 percent Democratic, polls have placed Whitman and Brown neck-in-neck for the past several months, according to the California Voter's Information Guide.
Indeed, Whitman's candidacy — if anything, has garnered significant curiosity from politicians around the country. Former Secretary of State George Shultz, Sen. John McCain, Sen. Mitt Romney and former Governor of Florida Jeb Bush have all hit the campaign trails in support of Whitman.
The Democratic nominee, and Whitman's political opposite, faces a whole different set of issues. The primary criticism against Brown stems from the length of time that he has spent in politics — over 40 years — and the lack of change seen in the State of California, particularly the economy, throughout his time in power.
Unlike his opponent, Brown did not begin campaigning until months after Whitman and operates under a significantly smaller budget, while still managing to remain tied in the polls.
"The truth is that I don't like to spend money, not my own and not the taxpayers'," Brown said in a speech after securing the Democratic nomination. "[Whitman] says [she] wants to run the state like a business but [she] set a national record for waste and excessive spending."
Brown continued on to describe the Republican party's campaign spending as a "billionaire's demolition derby," an accusation that continues to follow Whitman.
Possibly the most astonishing aspect of Brown's campaign was the endorsement he received from former President Bill Clinton — a former political rival. During rallies at University of California Los Angeles and San Jose State University, the two shook hands, laughed and smiled like old friends rather than die-hard opponents.
The candidates' unique approaches to campaigning have left the race in a dead-heat with just four days to go until polling booths open. Unlike elections of the past, current polls make it impossible to predict with any degree of certainty who the next governor will be. Polls open at 7 a.m. and close at 8 p.m. on Nov 2.