State releases new contact tracing app
Tracking COVID-19 exposure plays an important role in keeping schools open
The State of California released CA Notify, a contact tracing app, this morning to help with containing the spread of COVID-19 cases that are surging throughout California and caused the reactivation of stay-at-home orders. 
Contact tracing identifies and informs individuals in proximity to a confirmed case of coronavirus of their potential exposure. Contacts are notified of symptoms, directed to testing centers, and are encouraged to self-quarantine, according to the Centers for Disease Control and Prevention.
CA Notify uses Bluetooth from Apple and Android phones to determine if two devices have been in close proximity for more than 15 minutes. Users who test positive for coronavirus will receive a unique code from the California Department of Public Health to put into the phone. The app will then notify anyone impacted who is also using the technology.
  Users must opt-in to use the app, and its reliability will be dependent on the number of users. Participation has proven difficult in some of the test markets, in part due to privacy concerns, although the data is encrypted and not shared. App users will simply receive a notification of exposure according to CA Notify's privacy policy.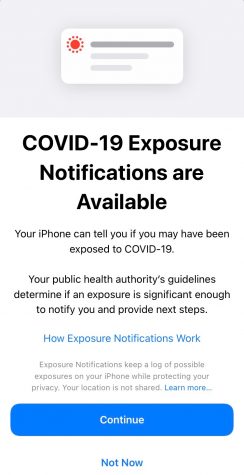 Some California phones received notifications encouraging them to opt-in to reporting their locations and receiving notifications. Apple cell phone users can activate exposure notifications through Settings by scrolling down to the "Exposure Notifications" tab. CA Notify is also available on GooglePlay.
Contact tracing has been an integral tool to control community spread and keep schools open, according to the CDC.  
"I went into isolation for 10 days, and since I didn't have any symptoms, I was released on the 10th day," Adele Bonomi ('20), who tested positive for COVID-19 at her university, said. "I had to report my close contacts to the school so that they would then be notified and also put into isolation."
A "close contact" is individually identified by analyzing the proximity and length of exposure to the infected individual, and if they showed symptoms. This may include those who have been within 6 feet of the infected individual for more than 15 minutes, according to the CDC. 
"The end game is isolation and everything else is a means to an end of finding people who are infectious," George Rutherford, Epidemiology and Biostatistics Director at The University of California San Francisco Medical Center said. "The faster the local Department of Public Health is notified, the faster we can talk to primary cases, the faster we can find people who may have been exposed, the better the overall system will work in terms of getting people isolated."
Particularly in schools that are deemed high risk for transmission, contact tracing communicates to vulnerable groups, the elderly or immunocompromised family members or faculty, possible exposure to the virus. If a member of a school community tests positive for COVID-19 it is reported to the local health department to be investigated.
"At times there is a delay in response from SFDPH contact tracing, which is why it's so helpful for schools to implement their protocols," school nurse Katie Coleman said. "The school is prepared to respond to a positive case, quarantine close contacts, and notify SFDPH all within one to three hours of getting notified."
The school manages cohorts for contact tracing through the new schedule featuring four rotations of two classes. Cohorts are based on student's classes and change every time a new session begins.
"We are modeling contact tracing by keeping documentation of attendance for students and employees, as well as any vendors who come onto either campus are logged for time of arrival and departure," Director of Physical Plant Geoff De Santis said. "The systems in place to gather information on where students and employees have visited allow us for quick actions and is a positive for why we were able to open for in-person education."
The school has received eight confirmed COVID-19 cases out of 2,570 tests. Contact tracing has been a vital tool in properly isolating the impacted groups while allowing the school to remain open and in operation, according to Coleman.
"I didn't know anyone who had COVID-19 and I don't know how I got it and none of my close contacts ended up getting it," said Bonomi. "In light of COVID-19, I think that it is a good protocol to have in terms of trying to minimize the spread of the virus and monitor exposure."