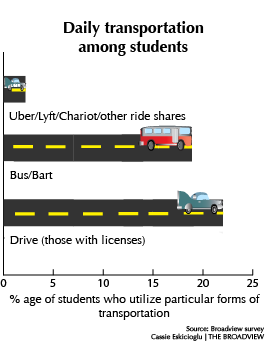 Transportation, transformation
Gen Z finds new ways to get around.
Ubers, Lyfts, taxis and buses cruise the streets of San Francisco and offer rides within seconds, having teens question the necessity of having a driver's
license.
"I haven't gotten my license yet because there are so many other options," junior Caroline Phillipps said. "If I want to get somewhere, I can easily take an Uber or the bus."
Sixty-four percent of students eligible to own a license reported not having one mainly due to the abundance of transportation options available in the City, according to a Broadview survey in which 33 percent of Convent & Stuart Hall students responded.
Since 1983, the number of individuals with licenses has declined, according to a 2016 Michigan State study. Unlike their children, 68 percent of current teenagers' parents got their licenses at the age of 16.
While most students get around town by car or bus, 11 percent of students said they prefer walking, biking or carpooling to get to their destinations.
"I would really like to see less people driving and more people carpooling for less traffic and a reduction of emissions," senior Edna Tesfaye, who mostly carpools, said.
As a convenient and lower-priced option for transportation, bike-sharing stations like Ford Go Bike are popping up around the City.
While the average Uber ride costs around $13, Ford Go Bike rentals range from $3 to $9 a day or $149 for 12 months. With its considerably lower prices, Ford Go Bike has attracted over 600,000 rides since June 2017.
"For people who don't have a car or don't want to deal with traffic or parking, Ford Go Bike is a great way to get around," Jean Walsh, Director of External Relations at Ford Go Bike, said."We are trying to put people on bikes so there is more room on the roads for people who really do need to drive, because a lot of people drive out of habit."
While many students use the available transit options in the City, 25 percent of students still possess a license. Students who have a license reported driving as their most used form of transportation, especially those who live out of the City and have less accessible and more expensive transit choices.
"I live in Marin, so getting my license provided me the freedom to go into the City any time," junior Abby Anderson said. "It's an important life skill that I felt I needed to learn."
All means of transportation, however, come with the possibility of being in a car accident. Drive.ai, a startup company located in Silicon Valley, is addressing this issue by implanting artificial intelligence software into self-driving cars with the anticipated goal of safer roads.
"Driving accidents are the number one cause of death for people between 15 and 24 in the United States," a representative at drive.ai wrote via email. "The stakes couldn't be higher, and there is a distinct opportunity for autonomous vehicles to eliminate human-created risk from the roads to save a significant number of lives."
With the transportation industry continually expanding, learning how to drive is becoming less of a necessity.
"I am excited for the future of transit because it opens up a lot of possibility for people who would otherwise not have another means of getting around," Phillipps said. "I like the idea of there being even more innovation for people to get places easier."