Steering away from a license
Teens are waiting longer to get behind the wheel.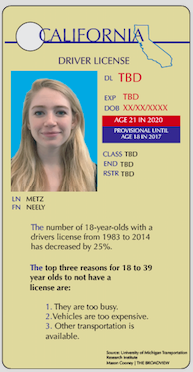 While high schoolers in the '90's movie "Clueless" hustled to get their driver's licenses once they turned 16, many teens are tending to hold off until much later to start driving.
"I haven't had much time in the past two years to get a license," alumna Neely Metz ('17) said. "Public transportation and Uber make it a lot easier, so I don't really need one."
The number of young people with a driver's license has steadily decreased over the past 30 years, with 80 percent of 18-year-olds owning a license in 1983 and only 60 percent owning a license in 2014, according to a study by the Transportation Research Institute at University of Michigan.
The reasons for this change are unclear, but for Metz and April Matsumoto ('17) their busy schedules and the availability of other transportation options are reason to defer getting a license.
"Because I still live in San Francisco, I don't need to have a driver's license," Matsumoto, who attends University of San Francisco, said. "Also, I never really got the chance to take the permit test."
Matsumoto says she generally uses San Francisco Muni to get around the City.
"My college gave me a free Muni pass, so it motivates me to use public transit more," Matsumoto said. "That's been my way of getting around, so it's not too different from high school."
Frequent construction work, traffic and limited parking in the City also discourage Matsumoto from wanting to drive. She says she would probably need a car if she went to college outside of San Francisco.
Metz, who goes to Wake Forest University in Winston-Salem, North Carolina, takes Uber or the bus system when she wants to go into the city.
"It's kind of inconvenient now because North Carolina is much more spread out than San Francisco," Metz said. "In a state where the cities and amenities are more spread out, it's a lot better to have a license than in a very walkable area like San Francisco."
Despite the benefit of having a car, Metz says it is not the most prominent thing on her mind right now.
Other teens refrain from getting a license due to the cost of insurance, but many drivers are under the false impression that car insurance rates decrease as the driver gets older, according to Craig Gambucci, a Property and Casualty Sales Representative for AAA Auto and Home Insurance.
"Back in the day, rates were based on age, but state regulations now say it depends on how many years of driving experience," Gambucci said. "Somebody who gets their license at 16 and somebody who gets their license at 30 pay the same price because they have the same years of experience."
Gambucci recommends parents start their children driving early to get the meter running and eventually have a lower insurance rate, instead of waiting until they are 18 or 21. Despite this, he notices the trend that teens are getting their licenses later.
"It's a good thing to have, especially as I get older, to drive places myself when I can't rely on friends or public transportation," Metz said. "I feel like I need to get one, it's just not as big of an issue right now, so I don't worry about it as much."