New album strays from signature style
Taylor Swift releases unique sixth album titled "Reputation."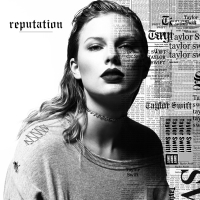 WEB EXCLUSIVE Singer, songwriter and pop culture icon Taylor Swift released her sixth studio album, "Reputation," last Friday which is composed of 15 tracks and is predicted to reach over 1 million purchases by the end of this week alone.
Swift's recent albums have been increasingly influenced by pop and electronic beats, leading her to stray from her country beginnings. The evolution in Swift's music culminates in "Reputation" which is the first of Swift's albums classified as electropop.
Almost every song on the album features computerized music behind Swift's lyrics, ranging from synth-like to club beats. Nevertheless, I find myself nodding my head and singing along to most tracks after the second time through.
"Don't Blame Me," the fourth track on the album, has a more aggressive sound than most of Swift's light-hearted love songs her die-hard fans have come to love. The lyrics tell the story of an addictive relationship that Swift compares to a drug, saying: "Lord, save me, my drug is my baby, I'll be usin' for the rest of my life," contrasting the naiveté of Swift's "Love Story" and "You Belong With Me" from her album "Fearless."
However I find the chorus to be one that gets stuck in my head — but surprisingly not in a bad way. I just want to hear it again and again, putting the song "Don't Blame Me" constantly on replay.
Another personal favorite is "This Is Why We Can't Have Nice Things." The 13th track on the album is definitely a song to dance and sing along to. It recounts a failed reconciliation between two people once in a relationship.
To Swift, forgiveness is a "nice thing," leading to its absence in their relationship and ultimately making this track what one could call a revenge anthem. Swift sings that "friends don't try to trick you, Get you on the phone and mind-twist you, And so I took an axe to a mended fence."
"New Year's Day," the last track on the album, is an ode to the "Fearless" Taylor Swift, simply backed by an acoustic guitar and piano. The song describes the aftermath of a New Year's Eve party, and repeats "hold on to the memories" over and over.
This is a perfect way to wrap up "Reputation." Although Swift ventured in almost a completely opposite direction with her newest album to what she has done in the past, she still chooses to end it with a nostalgically acoustic song about remembering what's important after the party — which could be interpreted as a metaphor for the album.
In its entirety, I enjoyed the album, no matter how different it was from Swift's original music. That being said, I would caution all fans still in love with the curly-haired, teenage, guitar-strumming, country-singing Taylor Swift, for "Reputation" is certainly anything but a lighthearted country album.
Leave a Comment