Spring musical premieres in dry Syufy
Just 10 days after being allowed back into the theatre for rehearsals after the Siboni flood, the drama department's production of 'Ur In Town', based on the Broadway musical  'Urinetown', premiered tonight at 7 p.m in the Syufy Theatre.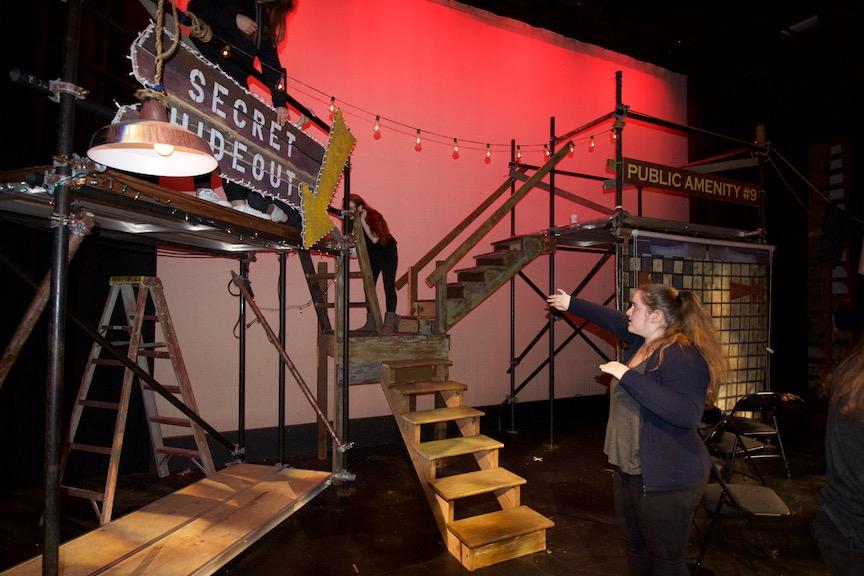 "I think the show went really well," ensemble member Rainier Dela Cruz said. "I mean, it was our first show, so the nerves were very strong backstage beforehand, but once we go into the groove of it, I think we all felt relief and enjoyed ourselves."
"Urinetown" tells the story of a town where a 20-year drought has forced residents to pay a fee to urinate — without paying, they cannot use the "public amenities," or restrooms. It is known for its satirical twist on the heavy topics of capitalism, social hierarchy, and natural resource conservation, according to Washington Post.
"It's the 'Les Mis' of comedy, to be brief," sophomore Darren Loy, who plays controlling businessman Caldwell B. Cladwell, said.
"We chose [Urinetown] because it's sharp, edgy, and contemporary," director Pamela Rickard said. "It has this kind of political charge to it, and a lot of the kids were pretty charged up after the election, so this has a lot of meaning in it for everyone involved."
Pre-curtain stage frights were relieved after the smooth opening night, but the lead-up to the performance was not without nerves.
"I don't know if I'm extremely nervous, but I definitely feel nervous for some of my friends," ensemble member Dena Silver said. "I know many people that are super nervous. I just hope that everyone has fun and can look back on tonight and be proud."
Spring Musical "Ur In Town" will be performed Friday, March 10 at 7 p.m. and Saturday, March 11 at 2 p.m. in Syufy Theatre. Tickets are $10 at the door.