Physics experiment floods Siboni second floor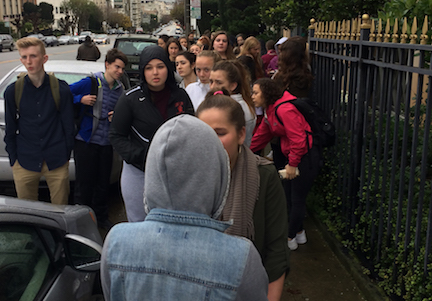 Students evacuated campus during C Period this afternoon when fire alarms rang following an in-class experiment in the Siboni Arts & Science Center physics lab.
Alarms sounded when a sound waves and compression experiment in a freshman boys physics class triggered an individual sprinkler, setting off the entire system in the lab.
An SHHS freshman whose name The Broadview chose to redact said that an experiment involving a Slinky may have caused the sprinklers to go off, but the statement has not yet been confirmed.
Water poured from the lab's windows as students from all four schools filed onto Vallejo and Webster streets.
High schoolers evacuated to across the street from Siboni, but were eventually pushed to the other side of Vallejo to make room for elementary school students.
"We walked out of our math classroom and turned the corner and the physics lab had water pouring out of it," senior Bea Gee said. "It looked like it was raining inside the room. It smelled like gas. We were really confused at what was happening, because we thought it was just a drill at first."
There has been no official confirmation on the cause of odors from the building.

Students reported seeing black water coming out of the sprinkler system, that was later squeegeed down the stairs by firefighters.
Firetrucks arrived at the scene at approximately 2 p.m., and began sweeping the water from the second floor of Siboni.
"It was kind of alarming, but also interesting [to see the firefighters coming into the building] because it's always just drills," senior Ana-Paula Louie Grover said. "I was coming from Stuart Hall, so I was on the bus when everybody had already been evacuated. We just waited outside. I saw one fire truck already there as we drove up."
Alarms were still ringing over half an hour after the system was triggered.
Students who normally have classes in Siboni are currently meeting in the Center, Library and unoccupied classrooms in Flood.
"I was going to Ms. [Amy] Leaver's math class in Siboni, and I was in the Main Hall walking down when the alarms rang," junior Gabby Tom said. "They didn't really make me go anywhere. I just walked across the street, and after the little kids went in, we started going back in."
Faculty not assigned to classes and maintenance crews removed student belongings and are bringing them to common areas in Flood Mansion and Lego wall between the cafeteria and Convent Elementary.
The Siboni Building is off-limits to all students and faculty until further notice.

Managing Editor Julia-Rose Kibben, Web Editor Claire Kosewic and Senior Reporter Claire Devereux contributed to this story.
Update Feb. 8, 8:43 p.m. President Ann Marie Krejcarek communicated with faculty and staff this evening, reporting the damage "will necessitate professional water mitigation with commercial restoration services" and all events scheduled in Siboni for the rest of the week will be relocated. An all-school assembly tomorrow morning in the Little Theater will address the student body and explain next steps.
The Broadview has updated this story throughout the evening as new information became available.