Sophomores in Costa Rica: Zipping through the world
Sophomore Class ziplines on first day of Central America adventure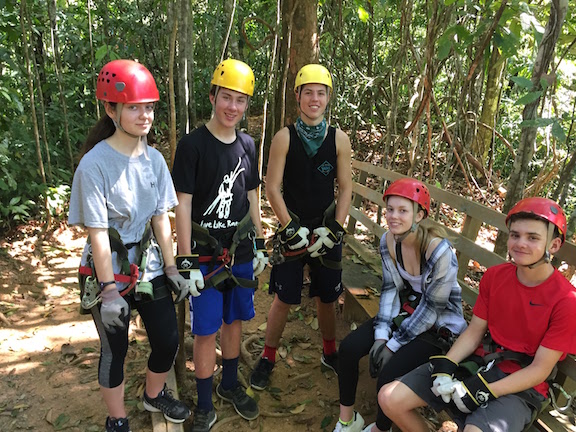 As the Sophomore Class embarked on the annual President's Goal 4 Experience in Costa Rica, students began a three-day activity rotation with a third of the group ziplining in the forest.
"We went on nine different ziplines, and it was hard for me at first because I don't like heights," sophomore Amelia Estes said. "After, it got easier because I learned to accept that I was doing it and I got over it."
Students will rotate three times to experience different activities during the first three days of the trip including horseback riding, volunteering at a local school and ziplining.
"It gave me an exhilarating feeling," Estes said. "Like an adrenaline rush."
The highlight of the day was seeing sloths in the trees, according to Estes and math teacher Amy Leaver.
"I saw two sloths, which was my goal in life," Leaver said. "One of them was hanging upside down and scratching itself."
The group who ziplined on the first day will participate in the other two activities over the next two days and the entire class will return to San Francisco on Sunday, Jan. 21.
Although the heights of the ziplines intimidated some, the speed was calming, according to Leaver.
"The ziplines didn't go that fast so it was a very relaxing experience slowly sailing through the forest with the breeze on your face," Leaver said.
Mason Cooney and Laura Mogannam contributed to this story from Domincal, Costa Rica.