Soccer players shoot for equal pay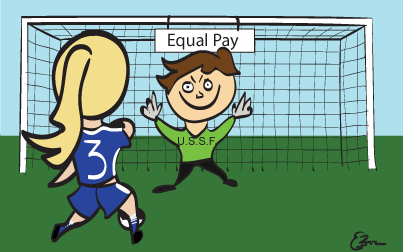 Female soccer players from the United States Women's National Team made headlines for filing a wage discrimination complaint against the United States Soccer Federation, claiming they are not fairly compensated compared to their male counterparts.
"A lot of young girls look up to the women's national soccer team, and to see that women who inspire them are fighting for a cause like equal pay and working to level the playing field is great," soccer team co-captain Delaney Moslander said.
Hope Solo, Carli Lloyd, Becky Sauerbrunn, Alex Morgan and Megan Rapinoe filed the complaint with the Equal Employment Opportunity Commission, citing they earn as little as 40 percent of the men's soccer team's wages, despite their team's third World Cup win last summer.
"What equal employment laws look at is the comparability of the work," Andrea Johnson, an Equal Justice Works Fellow at the National Women's Law Center, said. "If the men and the women are both playing soccer, then they should be compensated similarly."
U.S. Soccer justified the pay disparity by saying the men generate much more annual income than the women and that the viewer and revenue statistics the players used in their complaint was "cherry-picked from an extremely successful season to draw broad conclusions."
"Their lawsuit is totally justifiable because the women are paid so much less than the men even when the women's team wins consistently more than the men's team does," Moslander said.
Women standing up for issues they strongly believe in is inspiring and a demonstration of strength and of the influence of women in our society, according to outside defender Rosie Morford.
"I'm a soccer player and so are they — we're all girls, which I think kind of bonds us," Morford said. "When I see someone like Carli Lloyd or Alex Morgan sticking up for themselves, it inspires me to do the same for myself and know that that is okay."
Male and female teams do have different pay structures, with the men following a pay-to-play system and the women receiving a consistent salary with benefits — a condition the women negotiated for. The differing methods of pay is another reason U.S. Soccer claims the women are being fairly compensated.
In friendly matches, a man earns $5,000 for a loss and as much as $17,000 for a win, whereas a woman earns a mere $1,350 — but only if her team wins.
"The fact that someone agreed to a certain wage and even if they negotiated for it, if it is a discriminatory wage, that is not a defense," Johnson said. "The whole idea of negotiation is an issue because women tend not to negotiate as much as men, which employers know and often take advantage of."
Women are generally not comfortable to discuss wages, leading to many pay inequities that are never mentioned simply because they do not ever think to ask what a man's salary would be, according to Johnson.
"Given America's past history with issues like this, I don't think it's 100 percent at all that they'll win their lawsuit," Moslander said. "But I have hope because seeing their passion and their drive to do what they see as right is so inspiring. No win or loss changes that."