Award winning poet and author shares importance of writing, poetry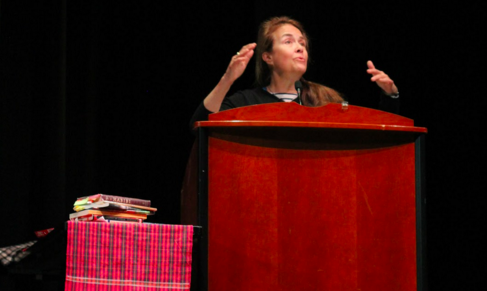 Self-proclaimed "wandering poet" spoke about the power of poetry and writing with CSH and SHHS this morning during assembly in Syufy Theatre, reading from her own published works and other select pieces.
Naomi Shihab Nye, who has published over 30 volumes of poetry and prose and received numerous accolades, began her passion for poetry at a young age and says she was especially drawn to Emily Dickinson.
"Poetry wasn't explanatory, it wasn't directive, it didn't tell you to go clean your room, it just floated in the air," Nye said. "It seemed to me a very precious kind of language."
With the encouragement of a school librarian, Nye began writing and sending works to literary magazines at the age of seven. To this day, she does not have a publishing agent.
"Writing can give us our own lives back, our own places back, a sense of deeper memory and time back," Nye said. "This is the gift writing has given me — to have perspective to look at everything as something I experience immediately and personally but also something that connects us to the world."
Nye read her nonfictional prose essay, "Museum," in which she and her friend mistake a family home for the McNay Art Museum, as well as selected poems from "Braided Creek" and her own poem, "Shoulders."
"Her range is so wide — she writes for young kids and young adults, she writes poetry and prose and essays — so she can speak to everyone here," SHHS librarian Amanda Walker, who invited Nye, said. "What she speaks about is that she's a poet, but anyone who can write is a poet. She reminds us of what we are able, and I think that's such an important message for all of us."
Given paper and writing utensils, students were introduced and invited to try Nye's daily writing exercise, in which she makes a list of questions, mistakes, hopes and thoughts.
"Pull the threads from these clumps of writing and find a poem tucked away, hiding in there," Nye said. "Doing something like this can strengthen your own relationship with any type of writing for the rest of your life."
This keeps the muscles of language exercised and serves as a practice for the regular connection of mind, according to Nye.
"Poetry is a good outlet for me to express my emotions," sophomore Starr Hooper said. "With the small writing project we did, I realized that I don't need to write a hit poem each and every time I write. I should write to better myself."
Nye also spoke to the lower form and parents tonight, and will speak with middle form tomorrow. Her presentation encouraged and impacted students, including Hooper.
"I write poetry myself, so this assembly has taught me a lot more and to continue writing," Hooper said. "Plus, it has inspired me to have faith in my writing.  She helped me realize that everyone isn't going to like it, but I shouldn't be discouraged by the outcome but to keep writing more."
The annual Charles Brady Poetry Festival will take place on Friday, April 15.