Central Subway Project alters downtown traffic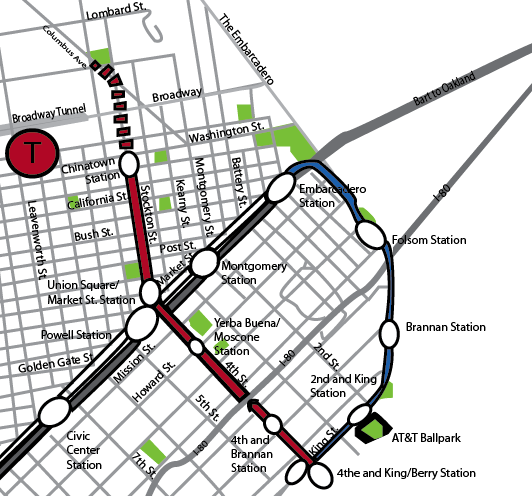 Hang on for a minute...we're trying to find some more stories you might like.
Rebecca Lee
Editor-in-Chief
Construction surrounding Union Square and throughout downtown San Francisco could pose a problem to shoppers during the upcoming holiday season due to the $1.5 billion Central Subway Project, a light-rail connection of Chinatown to central Market Street and onto the 4th Street CalTrain terminal, which will reroute pedestrians and traffic through spring 2012.
The Central Subway segment will reduce travel time between the Caltrain station at Fourth and King streets to Chinatown from seven to 20 minutes, according to San Francisco MTA's press release.
"[The construction workers] are currently doing utility relocation — moving utilities to under the street and under the sidewalk," MTA spokesperson Paul Rose said. "This allows construction workers to start the digging process for the tunnel."
"Downtown is always really crowded, with lots of honking and cars," senior Caitlin Martin said. "So, [the holiday season] is already a difficult and stressful time of the year and the construction only makes it worse."
The Muni Metro line will run along the same areas as the 30 Stockton and the 45 Union buses. The current above-the-ground bus system will not be removed in the area where the metro will run, but will be added to the T Third Street Line.
Plans for the project began in 2003 with the conceptual and preliminary engineering and construction started in 2010 near Union Square.
The new line will connect to BART and CalTrain and run through Chinatown, Union Square, Moscone Convention Center, Yerba Buena Center, the Financial District, South of Market Street and AT&T Park, with above-ground stops in the Financial District, downtown and Chinatown.
" alt="MUNI map" title="MUNI map" width="581″ height="491″ class="alignleft size-full wp-image-4243″ />
"The Central Subway Project will create 30,000 jobs in San Francisco," Rose said. "It is good for a time when jobs have been scarce and it would be a huge boom for the City's economic vitality."
Rose said the light rail line, powered by hydro-electricity, is more environmentally friendly than diesel buses currently running through the area.
"Not only will it speed up Muni but it should speed up traffic for both cars and pedestrians," Rose said. "It should also make it safer because there will be less congestion on the streets and it's a more efficient way to travel."
However, traffic will still be jammed this year for holiday shoppers if they decide to buy gifts downtown while others might avoid downtown all together to avoid the congestion.
"Some people told us that they were too lazy to go all the way up the street and come back down here because it was a hassle for them," Rebeca Servantes, store supervisor of the Union Square Ghirardelli Chocolate store, said.
The rerouted traffic should not dramatically affect the the store's revenue during the holiday season because nearby construction has gotten much better, according to Servantes.
"When [the construction] started, they completely closed out our side of the street," Servantes said. "They put up barricades in the middle of the street and a lot of people thought that we were closed because the construction was on our side."
Construction rerouted cars away from Stockton Street next to Union Square and only allows buses and taxis through.
The Central Subway Project is currently on schedule to start running in January 2019, Rose said.
"Businesses in the area have been affected but we have been working with them throughout the process to ensure that we address their concerns so they can continue with their business as efficiently as possible on a daily basis," Rose said. "For any issues that come up in this project, we will definitely work with the merchants and residents to address them."
(Visited 387 times, 1 visits today)
Hang on for a minute...we're trying to find some more stories you might like.