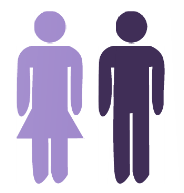 Moving past gender stereotypes
Through celebrities like Laverne Cox and Caitlyn Jenner, an increasing number of conversations regarding non-cisgender individuals are taking place, highlighting the shift of attitudes regarding gender identity.
Gender identity, how individuals perceive themselves as male, female, neither or a combination of both, may not fit with the sex they were assigned at birth, according to the Human Rights Campaign.
"As far as identity goes, that is someone's outward presentation of themselves and how they wish for the world to see them," Trey Amos, Poet Mentor Fellow and "Queer Poets & Allies" facilitator with the social justice and activist group Youth Speaks, said. "That can be expressed in mannerisms, attire, numerous ways. That teeters the line with gender expression as well, someone can identify a certain way, but maybe present a different way."
A common misconception that pervades modern commentary on gender identity is that there are only two genders, according to senior Samantha Lee, who is a member of the Gender and Sexuality Alliance.
"People may think that sexuality is a spectrum, but I think that less well known is that gender is also a spectrum," Lee said. "You have cisgender male and female, but you also have a lot in between."
Gender is not is directly connected to an individual's sexual orientation, according to junior Bella Maestas, who is also a member of GSA.
"There are a lot of analogies for different sexualities, and when it comes to genders it's a lot harder to explain to people," Maestas said. "They're two separate things that can combine in many different ways. Essentially, both are spectrums, so you have a spectrum of different genders you can identify as."
Genderqueer individuals may be viewed as "dysfunctional," non-contributing members of society, according to Amos.
"There are a lot of queer people who are doing well, breaking systems and making systems and really pushing the work that is happening around us in society." Amos said.
Catholic teaching does not specifically address those who do not identify with the sex they were born with, according to the Rev. Kenneth Westray, pastor at St. Vincent de Paul parish.
"Church teaching would be that a person is made in the image and likeness of God — male and female," Westray said. "Talking about doing medical procedures that change your identity, that the Church would be against. It would be against that in any way, shape or form."
For individuals who know someone who is reconsidering their gender identity or who themselves are reconsidering their gender identity, Westray encourages that they to talk to someone whom they respect, such as parents, friends or counselors.
"They need to be able to go through their experience, and I would never say close yourself up," Westray said. "The more you talk, the clearer it is. You might come to that decision, 'Yeah, that's me now,' but you've done that, and hopefully you'll pray over it. I know it's not easy, especially as a teen. You're already questioning who you're going to be, and then all of a sudden you've got this aspect of your identity on top of that."
Amos also encourages these individualsnot to be afraid of embracing the identity that they want to have.
"Never second guess that notion that who you are deserves to live, because that is your right and we have to all reclaim our right," Amos said. "And I would say to people who witness all those beautiful transitions to unlearn the things they are accustomed to and to reshape their perspective of what male and female, or non-binary are, and most importantly to educate themselves on the things that they do not know."Kendra Harvey
(Visited 992 times, 1 visits today)