New site showcasing art to be introduced Monday
A new website featuring individual works of art as well as student portfolios to be introduced to the community Monday.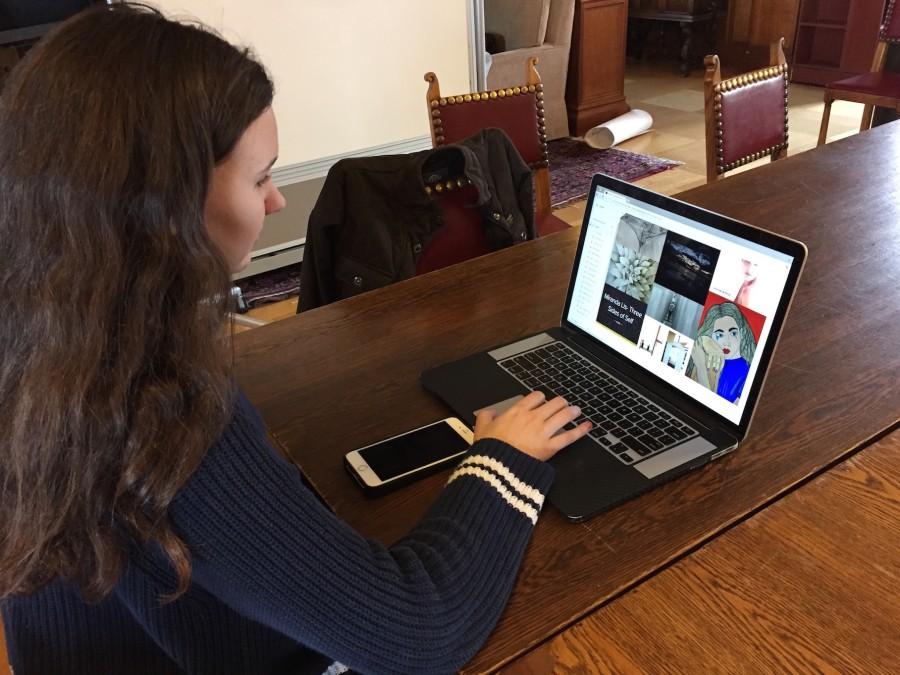 Painted profiles of girls, a still-life sketch of a flower in full bloom and a photograph of sunlight streaming through a layer of fog over San Francisco are all student-made works of art featured on the Visual Art Department's new website, which is set to be formally revealed to the community at next Monday's assembly.
"We wanted to create a place where everyone could go and see the entire high school's portfolios," senior Maxine Hanley, who created the site, said. "It's a great way for students, especially those in AP classes, to get recognition in the community."
Uploading student art to the site is a way to create digital archive of student work, while also allowing girls to share their creations, according to Visual Art Department Chair Rachel McIntire.
"We would like to continue growing digital portfolios in the spring, so each student in advanced art would have representation on the website," McIntire said. "We would continue to feature the lower grades' work as well, but we would really showcase the development of the advanced students."
Senior Clara Phipps, who has a painting featured on the site, says she would be open to featuring more of her work on the site, but recommends that students think carefully about what they decide to post.
"I think the site is good for the school in a publicity sense, but it's also good for the artist to get some publicity in a safe environment," Phipps said. "But, I think that artists need to be cautious about what they put out there, especially in the sense of people stealing their work. Also, it's part of how they're representing their commercial profiles."
Though the site currently showcases paintings, photographs and sketches, future uploads may include other forms of art, such as as music and creative writing, according to McIntire.
"We're starting with what we have the most access to, but we would really like to grow it into a platform to share all of our art," McIntire said. "I think it's a really nice opportunity to get their art into the community in a really easy way."
Girls interested in having their art featured on the site can contact Hanley or McIntire for more information.
"Every student has the opportunity to upload all of their works for the community to see," Hanley said. "A whole bunch of students have already uploaded some great work and statements."

(Visited 219 times, 1 visits today)