Varsity basketball wins preseason tournament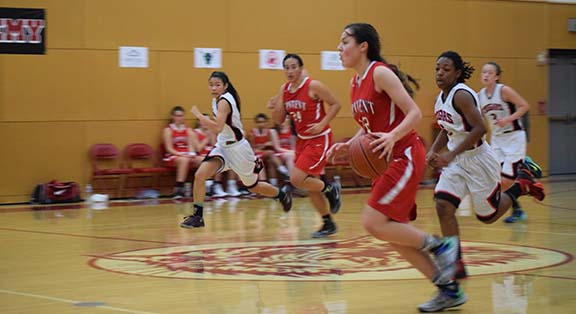 Varsity basketball brought home a gleaming blue trophy after winning the Marin Academy Invitational Tournament this past weekend.
"You're playing three games in a row in the same environment and it allows you, especially this early in the season, to gauge whether or not you will be a good team," co-captain Isabelle Armstrong said. "From the very beginning we have a team mentality so it's not just a single person game. Everyone can contribute equally."
The team beat Bay 55-41 on Thursday, Branson 49-29 on Friday and Albany 57-42 on Saturday.
"We had different people score in double figures during the tournament," Head Coach Ren Marquette said. "Alyssa Alvarez scored 16 the first night and 19 the second night. Ally Arora ended up with 19, and Gia Monachino had another good night with 16. That was the final game, the championship game."
Marin Academy, who hosted the tournament, invited eight teams to participate.
"When you are playing three days in a row without practice, you get better as you go along and you gain some confidence," Marquette said.
The new team members, three freshmen and two sophomores, were crucial to the 10-player team during the tournament, according to Armstrong.
"The new players all got play time and they contributed a lot to our wins," Armstrong said. "Even though most of them didn't start — with the exception of Sydney O'Neil in the first game — they had a big impact on the game."
Defense remained a consistent strength of the team, while offense is something the team improved on throughout the games and will continue to work on during the season, according to Marquette.
"Everyone passed the ball around really well," junior Gia Monachino said. "We were able to make plays, work together and we had really good team chemistry."
The wins only count towards their overall wins and losses and to their position in the North Coast Section Championships.
"As competitions start to get harder and we play teams in the regular season, we'll have to push ourselves a little bit more," Armstrong said.
The team will play in the Branson Nike Hoops Classic charity tournament starting today.
"I'm having a lot of fun with this team," Marquette said. "I want them to realize that they could be special, that they could surprise a lot of people in our league. As well as we played in the tournament, I don't think we are close to what we can be potentially