Sophomores fundraise for Christmas celebration with potluck sale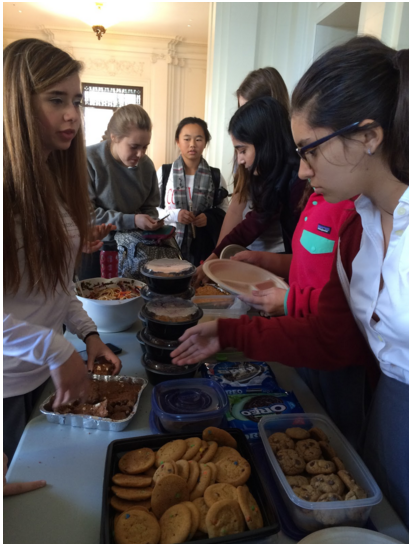 Sophomores and their Student Council members gathered around a table filled with fried rice, homemade cookies and noodle salad in the Main Hall today for their potluck-style fundraiser in preparation for the Christmas celebration they will host.
"The purpose is to try a new and unique way to raise money for Christmas," Sophomore Class Publicity Mary Gray Simon said. "Our school has so many bake sales, and we thought it was time to try something new."
Because underclassmen are not allowed to go off campus for lunch and the cafeteria food can get pretty old, a potluck offers more options, according to Simon.
As opposed to the usual bake sale, potlucks can provide healthier options to sugary treats.
"Fiona [Mittelstaedt] was talking about how there are not too many options in the cafeteria for people who have many food restrictions," Sophomore Class President Carlota Rubio said "It also is a way to bring the Sophomore Class together and get involved with the Student Council."
The annual Christmas celebration will take place in two parts on the Friday before Christmas break, according to Rubio.
"We pretty much have everything planned out, and now we need to fundraise and purchase what we need," Rubio said. "It will be a very interactive and social day. All I can say is that it is going to be really fun."