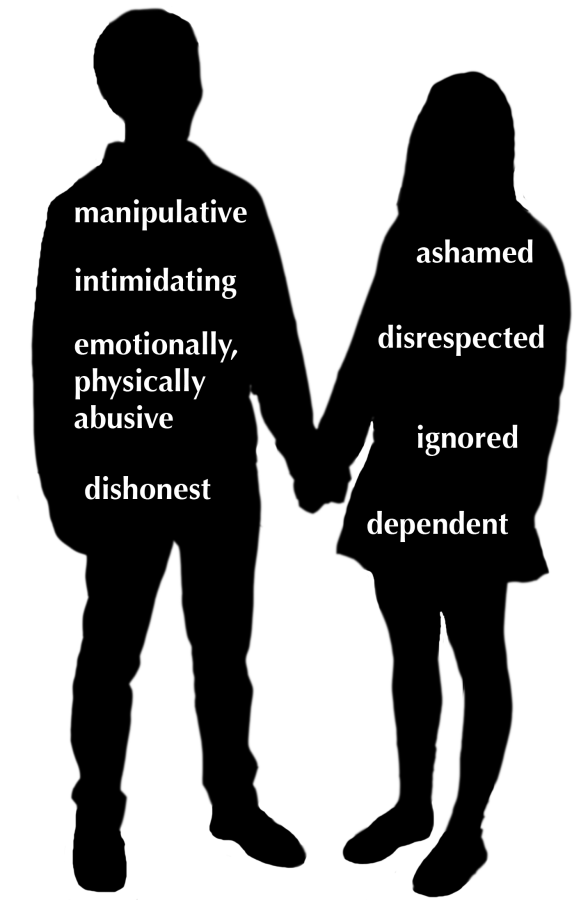 Kristina Cary & Bea D'Amico | The Broadview
Unhealthy dating can be physically, emotionally detrimental to teens
Abusive dating relationships can be hard to recognize, leave.
Dating her second boyfriend started off well — until they got to know each other. That was when Violet, who asked that her real name not be used, says her relationship with her now ex-boyfriend grew unhealthy, as he grew easily irritated with her and began to pick fights with her friends.
"He would get mad at me if I didn't do stuff that he wanted to, because I wasn't at that point or in that comfortable state but he was, so he would try to force me into things," Violet said. "At times he would question if I ever cared for him, which really hurt because he was the first guy I actually ever did love."
Domestic violence, the physical, sexual, psychological or emotional violence within a current or previous dating relationship, can occur through both in-person and digital interactions, according the the Centers for Disease Control and Prevention.
Relationships can be considered unhealthy even if there is no physical abuse, according to youth counselor Charis Denison, who has spoken to the student body as a guest lecturer multiple times in past years.
"Any physically abusive relationship has to have started, on some level, with emotional abuse," Denison said. "The emotional abuse can make one partner feel small. Once somebody feels small, they feel as if they aren't entitled to the kindness, safety and compassion that they're entitled to."
Unhealthy relationships can be identified through characteristics such as disrespect, control, dishonesty, intimidation, violence and dependence of one partner on the other, according to youth.gov, a government website that seeks to help create and support effective youth programs.
"He wanted to know where I was at all times and who I was talking to," Violet said about her first boyfriend. "If I was FaceTiming a friend who was a guy instead of FaceTiming him, he got very upset and would say, 'Call me right now. I need to talk to you – this is not okay.'"
---
"Any physically abusive relationship often starts, on some level, with emotional abuse." – Charis Denison
---
Teenage relationships are based on the values of connection, recognition and power, according to Denison. When one of these three components becomes unbalanced between dating partners, a relationship can turn unhealthy.
"Power is the most important one to look out for because it usually shows up the most for your friends and the people you care about, and it's easier to spot from the outside," Denison said. "You start to see that one partner seems to have more power than the other."
Recognition can also become warped when one partner is being ignored completely, or they are not being recognized for their positive attributes, according to Denison.
"My relationship with the third guy I knew was unhealthy when about after a month I had tried several times to get us to meet up," Violet said about another boy she dated. "I had pushed stuff around, and I had even rescheduled on friends twice to try and have a date with him, and he just never made an effort. Finally, I realized I deserved someone who cares as much as I do."
Unhealthy, abusive or violent relationships can have deleterious short-term and long-term effects on teens' emotional development, and can include symptoms of depression and anxiety or engagement in unhealthy or antisocial behaviors, according to the CDC.
"It can affect every single part of their psychological health, much less their physical health," Denison said. "It erodes the entire sense of identity that that young person is creating. If one of the primary people in their life is distorting that, it could completely alter the course of that person's psychological development."
Most people follow distinct patterns in their relationships that can be ingrained in their personalities, according to psychotherapist Mary Darling Montero, in an article for the Huffington Post. Learning to examine old patterns and how they affect relationships can be a step in beginning to alter current and future relationships.
Family and friends may not always pick up on the characteristics of an unhealthy relationship due to teenagers' increasing independence and a sense of shame that can come from being in an abusive relationship.
"If you're beginning to feel like you're smaller than your partner, or you're beginning to feel the effects of abuse, and you feel less powerful than your partner, you feel ashamed, or you begin to feel like it's your fault," Denison said. "The shame and guilt part begin to make the target of the abuse feel like she or he needs to lie or cover it up."
Teens may also stay silent because they do not want to ruin their peer's apparent happiness from the relationship.
"My friends are not the kind of people to ever tell me that the guy I'm dating is bad, because all they see is the fact that I appear to be happy with him and they don't want to take that happiness away," Violet said. "So, no one ever told me it's an unhealthy or bad relationship."
Moving forward, Violet says she has learned more about her own personality and that she has new ideals in an ideal dating relationship from having been in these unhealthy romances.
"I have learned so much from those relationships, the first being that I am a very strong, opinionated, independent woman," Violet said. "Second, if you can't get along with my friends, then there's no point. And with the third guy, I learned that if you're in a relationship it should be something that you do give a big commitment to. You really give it your all."
Teens who are concerned about the emotional or physical safety of a friend or family member who is in a romantic relationship can contact school counselor Annie Egan for assistance or call the 24-hour National Domestic Violence Hotline at 1-800-799-7233.