Increasing need puts stress on SF Food Bank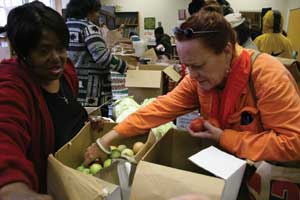 Jovel Quierolo
Managing Editor
Requests for assistance from the San Francisco Food Bank are up 20 percent this year, and although it is responding with more products and produce than ever, with 192 pantries citywide and a warehouse bustling daily, food is still not being distributed fast enough in large enough quantities to meet steadily climbing demand.
"The need is attributed to unemployment and underemployment," said Paul Ash, the Food Bank's executive director. "Even if people have steady jobs or several part-time jobs, people's hours are being cut back, and they don't have enough to pay for food."
Ash, who has been with the organization for 20 years, oversees a large core of volunteers and cubicles filled with program coordinators. He works with donors to ensure that the city's pantries stay stocked with nourishing food for clients who cannot afford to buy it on their own.
"You have parents skipping meals so their kids can eat," said Ash. "That added pressure of having to provide food can add huge stress on a lot of families."
Only two to three percent of the Food Bank's aid goes to the homeless, and the rest goes to seemingly-normal families with adults who have jobs and children to feed.
"We see them every day," said Ash. "But their hunger is invisible. They are just scraping by and they can come to our pantries all around the city to get something to eat."
The Food Bank itself houses and sells food at large discounts to people who can provide proof of need.
"We get food for the church and distribute it among parishioners and people who come to our door," said the Rev. Andrey Kovalev of Saint Nicholas Church, a Russian Orthodox community on Diamond Heights Boulevard. "Money can be abused, but by giving them something to eat, we're helping them so they don't starve."
Kovalev packs his cart with mostly packaged goods for easy distribution, but 60 percent of the food provided by the Food Bank is fresh produce. While produce donations are up, manufactured foods and protein like meats, peanut butter, and fish have been harder to get.
"We used to get more cereal," said Ash, glancing out his office window at a giant tower of cereal boxes. "It was really great for families with kids to give them a healthy breakfast before heading off to school in the morning."
The Food Bank itself is a large warehouse that channels food to local pantries, but seeks to solve hunger at its source — hiring people to work on public policy and advocacy, addressing problem of hunger on all levels.
"In the cube next to us, a co-worker of mine is working on a grant," said executive assistant Elizabeth Shapiro. "So we try to address the problem of hunger on lots of different levels. There's no simple solution. But our work also clearly affects people directly. On a given day, we can take fruit to a school to give to kids as a snack. The bottom line is people need to eat."
On most days, the Food Bank hosts a group of volunteers to help package food for distribution. In the past few months, the Food Bank has focused on outreach through newer technology to volunteers and the individual donors from which 50 percent of funding comes.
"We're now on Facebook, Twitter, and other networking sites," said volunteer leader George Lazaneo while slitting open a bag of cayenne peppers for a group to package for a pantry in Chinatown. "Outreach is becoming really important. People see the donation barrels out, but if they could see or hear about the pantries and the bank itself then people would really see what we do."
There is a real sense of cause and effect in the improvement of lives through providing food, according to Lazaneo. It is important that the city and its residents support a program that feeds the hungry — people who need help that could be neighbors or friends.
"The Food Bank is a great place for us to get food because you get a lot for a little," said Frankie White, a case manager from an organization that offers services for former convicts. "We feed and take care of people who just got out of jail. I mean, I used to be one of them and I know it's nice to have some place to stay and something to eat. I can't think of going anywhere else to get food, we're grateful for what we get here."

(Visited 65 times, 1 visits today)