Cotillion season approaches
While all seniors are required to buy a white gown for graduation, some seniors will be buying two — a formal occasion dress for
graduation and a debutante ball gown.
"All the women on my dad's side of the family participated in it," Catherine Ames ('14) said. "They wanted me to experience it and take advantage of such a great opportunity to meet new people."
Ames is one of 20 young women presented at the 73rd annual Cotillion Club of San Francisco Debutante Ball at the Palace Hotel in December, one of the two debutante balls in San Francisco.
"I went to the ball a couple of years ago, and I saw what a special bond it was between fathers and daughters to be walked down," Kari Cusack, mother of Hailey Cusack, said. "I looked at my husband, and it made me cry because he was so proud of his daughter."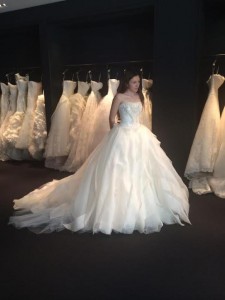 When being presented at the ball, each debutante is led into the ballroom by her father or fatherly figure to an escort, who accompanies her as she continues her formal entrance.
"It's girls coming into society," debutante-to-be Paloma Palmer said. "In the old days, the father would present the daughter, 'Here's my single daughter. She's a woman now, she's coming into society.' It's like a quinceañera or a bat mitzvah."
Thirty-four girls are presented each June in the ballroom of the St. Francis Hotel at the California Pacific Medical Center Debutante Ball.
"I talked a lot about it with my family because obviously it's a really big decision," Palmer said. "I think that it's a really great cause, too."
The CPMC Debutante Ball also functions as a fundraiser for the hospital and medical center. The Women's Board raised $200,000 last year for the Hospitalized Elder Life Program.
"It's a nice tradition and there aren't that many traditions anymore," Cusack said. "It's a really nice groups of kids. They are all well mannered and know how to behave in social situations."
Debutantes have many hours of practicing etiquette and their formal entrance before the ball, according to Palmer.
"I didn't really know anyone in my deb group before," Ames said about the young women selected as debutants from around the Bay Area. "You meet a lot of people at the actual event, too, and a lot of the adults already knew you because of your family's older generations."
Most Cotillion debutantes are invited because of a legacy, a family member who has previously been presented. Both Ames' grandmother and aunt were debutantes.
Debutantes must wear an "exactly white dress" with shoulder straps, pearls and white gloves and adhere to the requirements by the Women's Board of the CPMC Foundation or the Cotillion Club of San Francisco, according to Palmer.
"I'm really glad I did it," Ames said. "It was a great experience. If anyone has the opportunity to do they should do it."