FOMO, fear of missing out, creates extra anxiety, stress when being excluded from social situations
Kristina Cary
Senior Reporter

The acronym "FOMO" — the fear of missing out on social events or trends — has become popular enough for the Oxford English Dictionary to add the word to its ranks in 2013, reflecting the increased awareness and frequency of having this phobia.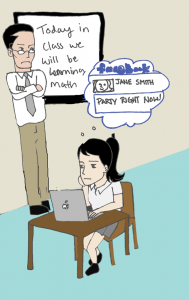 Anyone can fear being excluded from what she believes to be a potentially valuable experience, according to Laurie Pomeranz, who is a licensed marriage, family and child therapist.
"It's that anxiety that something cool might be going on that you're not apart of," Pomeranz said. "It's that feeling that you're being deprived of an opportunity that could be rewarding in some way."
Fear of missing out reflects the basic human need to stay socially connected, according to theology teacher Paul Pryor-Lorentz.
"We're inherently social beings, so we never want to have the sense that we're being left out from the group," Pryor-Lorentz said. "When we talk about FOMO, what we're really saying is 'I don't want to be outside of the group of people that I care about.' I think it's a deeper human concern of togetherness."
FOMO can distract from other responsibilities, like academics, according to sophomore Mackenzie Maly.
"I do feel left out sometimes, but generally when I don't go to things it's because I couldn't," Maly said. "There's nothing really I can do about it."
Digital forms of communication, such as email and social media, are a huge contributor to having FOMO, according to Pomeranz. Globally, 62 percent of people who are "connected online" communicate through social networking sites, according to Reuters.
"It was already a little fire, and social media poured a little gas on it," Pomeranz said. "If you add Twitter and Instagram and all these places where people are constantly updating what they're doing and who they're with, there's that sense that things are happening, and you're not a part of it."
Social media sites like Facebook are visited by millions of users per day. There were 890 million active Facebook users daily on average for December 2014, according to statistics published on Facebook.
"When Facebook became a thing at my middle school, I wanted one, but my mom said no," junior Jillian Cardamon, who does not have a Facebook account, said. "I really felt like I was missing out."
Even though she really wanted a Facebook account in middle school, Cardamon has realized she doesn't really need one since coming to high school.
"I know who my friends are, and we don't really do that stuff — we text instead," Cardamon said. "I have no fear of missing out anymore."
When worried about having missed a potentially rewarding opportunity, Pomeranz encourages students to practice mindfulness and to be aware of their current opportunities.
"Take time to be in the present moment with people around you, be in the activity that you're doing," Pomeranz said. "Think about all of the present beautiful, interesting, rewarding aspects of what's happening."

(Visited 145 times, 1 visits today)