Surfers take to the waves, braving the Bay Area's frigid waters.
Delaney Moslander
Senior Reporter
The rough waves, average water temperature of 60 degrees and location within the Red Triangle, home of the great white shark, leads most beach-goers not to consider San Francisco a surfer's paradise, however, students and teachers have created the school's first Surf Club.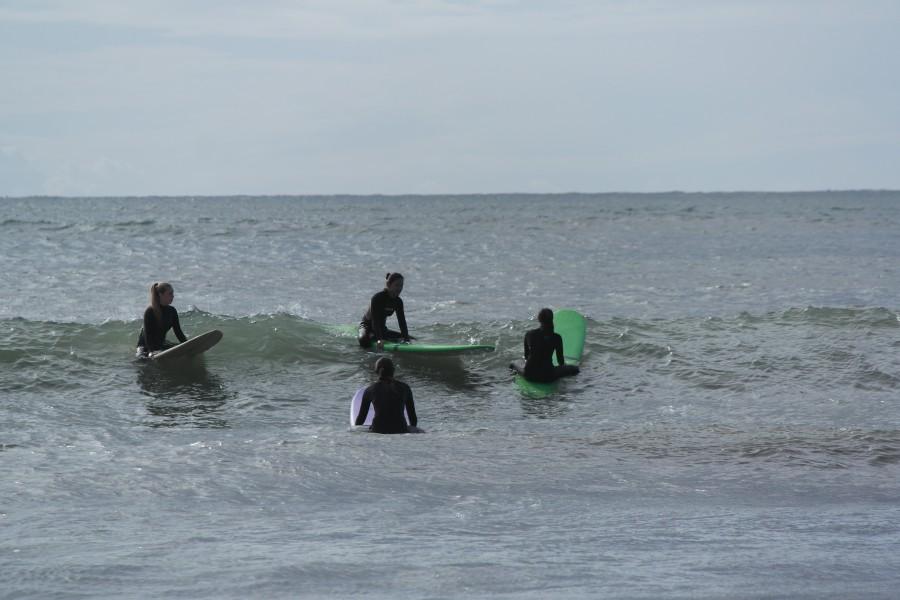 "It's sometimes fun to be able to play into the California stereotype and at least try surfing," junior Serafina Cinti said.
The club was formed under the leadership of languages teacher Pascal Parra who grew up surfing in Biarritz, France, a popular surfing spot in Europe. According to Parra, starting the club allows him to support involvement in the sport.
"I want to encourage girls because I think that not enough girls have been given the opportunity or seen surfing as an opportunity for them," Parra said. "It has been a male-dominated sport for a very long time and only in the past 10 to 15 years has women's surfing become more and more prominent."
The club plans to take monthly outings to locations such as Bolinas, Martin's Beach and Santa Cruz, as well as a possible trip to Mexico over spring break.
Parra instructed members on the technicalities of surfing during their first trip to Bolinas on Nov. 1.
"I'm not a surfing instructor, per say, but I've taught many people how to surf so I have some experience," Parra said. "Mostly you need to know that surfing is something you need to learn on your own, someone can teach you the basic things but it requires a lot of personal dedication."
Ocean safety is a key topic the club discusses in order to prepare for dangerous situations such as being caught in a rip tide, as well as what to do when finding oneself in a hazardous situations.
"People usually underestimate how powerful the ocean is," club head Chloe Lovato said. "It's really important to know what to do when you get caught in a strong current or get hit by a wave."
Surfing requires a high level of physical and mental devotion to the sport, according to Cinti.
"Surfing can be really empowering," Cinti said. "It's kind of like any other sport, it's the same sort of physical commitment but also mental commitment and focus."
An understanding of surfing is not a prerequisite for the club, however knowledge of the sport can benefit members, according to Lovato.
"There were a couple girls who knew how to surf, but most of the people didn't so we were all helping each other," Lovato said. "For a lot of people, being able to stand up on their boards was a big accomplishment."
Taking part in surfing helps bring surfers a new understanding of the ocean.
"When you finally stand up on your board, you don't have to do anything but balance and you're completely at the mercy of the ocean," Lovato said. "It's kind of like nothing you've ever experienced before. I'm really passionate about surfing and I want to make other people passionate about it, too."