Sophomores focus on oppression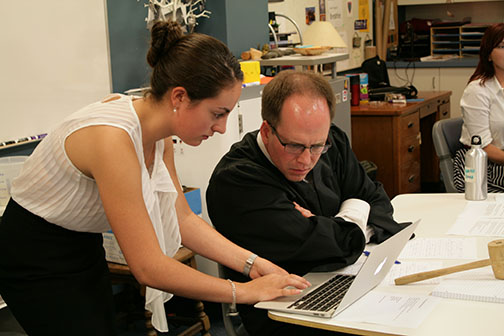 Clad in a Convent-branded burgundy sweater, rose-colored trousers and a zebra-print barrette, Samrawit Beyene stood at the front of the classroom and held up her right hand as she faced the teacher and the crowd in front of her, said "I do" and was sworn in to court during a mock trial.
Beyene and the 51 other sophomores are the first to participate in the new "Responses to Oppression" dual English and history course co-taught by Rachael Denny and Michael Stafford.
"I think it's great because we learn about stuff that happens in the present," Beyene said. "I think focusing on oppression makes it more real and makes you see the issue in a whole new way. We're learning about the different forms of oppression and trying to do something about them."
Dubbed "Hislish" by students and teachers, the new course focuses on dealing with and responding to issues such as slavery, genocide and global inequality in history and literature.
"I was really skeptical about it at first," sophomore Mackenzie Maly said. "Now I'm actually really glad that they did it because I think it's really unique and not a lot of people have the opportunity to take classes like this."
The course takes place during two back-to-back 75-minute periods, although students' schedules and transcripts list the class as separate sections of History 2 or History 2 Honors and English 2 or English 2 Honors in order to indicate students are fulfilling both history and English requirements.
"We realized that if we actually taught this course as a team, instead of, for example  Ms. Denny assigning a paper on the Tempest, and me assigning a paper on the conquest of the Americas, we could assign one paper on how the Tempest describes the conquest of the Americas," Stafford said. "It covers both fields brilliantly and that frees both of us up to do other cool things with the class."
The instructors introduce historical events in conjunction with related literature, while focusing on building skill sets.
"Every unit is a complete blend of both history and English expectations in content," Denny said. "Neither the history or English supplements the other — they both are of equal importance."
The class gives students a measured amount of autonomy in how they want to approach a given topic, according to student teacher Rhiannon Salter.
"It's a little more self-directed," Salter said. "We're saying, 'Yes, you need to have a final product that looks like this, but how you get there is in part up to you.'"
Honors and non-honors students are graded using the same formative assessment document, which holds honors and non-honors students to different levels of proficiency.
"They're all in the same class together, which I think raises the level of learning and expectation for the whole group," Denny said. "It does both groups a dis-service to not have them together because there are things that you can learn from a non-honors group and theres things non-honors students can learn from an honors group. It helps to have both kinds of thinking in the room."
Students who want to take the Advanced Placement World History exam in May can choose to participate in review classes that take place every other Thursday, even if they are not enrolled in the honors course. Students who do not wish to take the exam can use the period as an academic study period.
"Anybody who wants to can put in the extra time and effort — I'll prep them for the AP exam," Stafford said. "It is not a formal class — it's self study."
All sophomores are required to participate in the class's design thinking seminars on the Thursdays when the AP review course is not taking place.
"Design thinking is like a mini class where we learn to think outside the box," sophomore Sabrina Chaffee said. "Design thinking is the capstone project in a way. What we've done so far is start to go through the steps; first start with empathy, then brainstorm questions. You go through prototypes and keep going until you have a product and find a way to help out your client."
Students will choose a particular form of oppression and work with an outside source of their choice to design their own responses to it for the culminating activity. This project takes the place of the former 20 Percent Project and the Sophomore Symposium.
"The last five weeks of school we have dedicated time for them to connect with outside organizations that are responding to a particular form of oppression," Stafford said. "They get a lot of choice as to what form of oppression they want to tackle and respond to, and the've got specific time set aside to actually do it."
"It really does combine the history and the English," Chaffee said. "You can really see how it overlaps and they join together really nicely."
(Visited 130 times, 1 visits today)