Students exchange Secret Santa gifts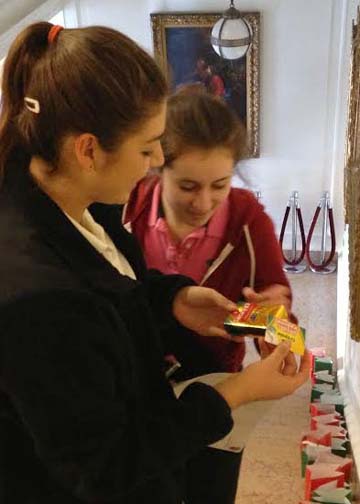 Delaney Moslander and Julia-Rose Kibben
Reporters
Red and green paper bags lined the sides of the marble staircase this week for the annual Secret Santa gift exchange, organized by Sophomore Class Student Council.
"It's fun and unique to Convent," junior Franny Eklund said, "Because we're a small school and bigger schools can't necessarily do it with so many students."
Each student is assigned a person in her grade to give a gift to, the gift corresponding with the theme of the day. Sophomores determined the themes which change every year.
"The Student Council met and decided what days we wanted to have, like food or cozy," Class President Audrey Brooke said. "Then we based it on the name of the day."
Themes of Merry Monday, Cozy Toesies Tuesday, Wayback Wednesday, Tasty Thursday and Fabulous Friday suggested small gifts costing no more than $5.
"I liked Cozy Toesies Tuesday," Student Activities Director Devin DeMartini said. "It's cold outside, so I think it's a good way to celebrate getting warm."
Brooke incorporated a Google form to ensure that everyone receives a present each day. The Google form is filled out by students who have not received a gift that day. Candy canes are available for the Secret Santa to buy so no one is left out.
"Since we made the form people have been more encouraged and there have been less mishaps," Brooke said.